Thanks to Louise Wilson for todays guest blog post, read more about Louise at the bottom of the post.
Say 'Portmeirion' to the average person and you'll likely end up in a conversation about a cult 1960s TV programme or someone's fancy wedding crockery! However there is so much more to this gorgeous little village on the edge of the Dwyryd estuary just 5 minutes from Porthmadog.
I have to admit that we haven't seen a single episode of The Prisoner and so all references to large white bouncy balls and the 'number 6' were lost on us. That didn't, however, dampen our enjoyment on a recent visit to Portmeirion village. In fact we are now the proud owners of The Prisoner complete series on DVD and are determined to swat up before our next visit!
A visit to Portmeirion is a day out like no other. Transported to a magical land of quirky coloured houses, twisty cobbled lanes and intriguing statues, you'd be forgiven for thinking you had been whisked away to an Italian village or onto the pages of a quaintly illustrated fairy tale… but no. Right here in Gwynedd in North Wales is the brainchild of the architect Clough Williams-Ellis, whose aim was to create a little slice of the Mediterranean right here on our doorstep.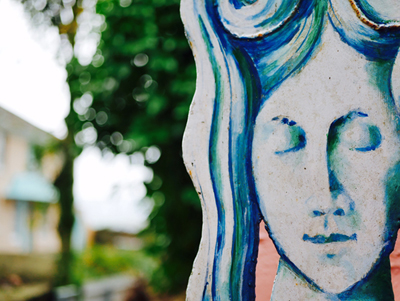 Portmeirion is ideally situated just 25 minutes' drive from our base at Pen Hendre Holiday Cottage. There is PLENTY to do to occupy a family for the day. On arrival (after a cheeky little bacon roll at the perfectly positioned café at the entry kiosks) we wandered under the impressive archway and down into the main square through the brightly coloured houses and shops, taking in all the fabulously different architecture, the perfectly manicured hedges, the bight and overflowing flowerbeds and the peculiar (in a great way) little details at every turn. Thanks goodness for digital cameras as I don't think I stopped snapping away the whole day. I challenge you to see how long you can last before whipping out your phone or trusty old compact. While mum and dad enjoyed wandering round the village in awe of the architectural feast for the eyes, our 4-year old rather enjoyed the trip on the little 'train' through the extensive woodland and enjoyed a short 'nap' (we wish!) on the wooden bed. Another favourite was the 'boat' anchored down by the hotel and quayside and the little tunnel leading through to the estuary (lots of echo potential – a definite thumbs up from the little ones!). A walk round to the estuary is lovely when the tide is out and you find yourself strolling along (or in autumn weather like we had being blown along!) the seemingly never-ending expanse of sand and listening to the chattering seabirds in the distance - but be aware of the warnings to keep an eye on tide times and the areas of sinking sand!

If you are feeling peckish after a morning or afternoon of exploring, the on-site cafés and restaurants provide varied options for lunch/dinner (or just an ice cream or two if that's all you are after) and there are lots of spots for picnics if you have come prepared with your own food. We would thoroughly recommend the Town Hall Café with its impressive glass panelled windows and comfy leather sofas. The perfect place to rest your weary legs before pitting your wits against your other half on the giant chess set (great fun!) or a hike up to the viewpoints in the forest. The food was delicious and very reasonably priced with 'yummy' kids options (I quote our definite discerning 'foodie to be'- 4-year old).
We visited mid-season (on a Saturday in October) and although there were plenty of people around, queues were minimal and parking easy. You can see that things will get busy in peak summer but to be honest I think there is enough to do while you wait that you won't get too exasperated or bored.
We loved our visit to Portmeirion and are already planning our next. We may even be tempted to have a kid free getaway in one of the two onsite hotels and enjoy some pampering in the brilliantly named mermaid spa, or we may test out one of the appealing cottages dotted throughout the village. I am desperately trying to convince the other half to dust down the festival clothes, don some glitter and unleash the John Travolta within to boogie on down with the best of them at the annual Festival Number 6, held in the village in September. I literally cannot think of a COOLER place to have a festival (in my words this time not the four-year old's!)
*Entry costs £7/8 for an adult, £6/7 for over 60s/students, children free. Important note – dogs (with the exception of guide dogs) are not permitted in the village or grounds. Yearly pass available. We visited using our Go North Wales Tourism membership visitors attraction pass.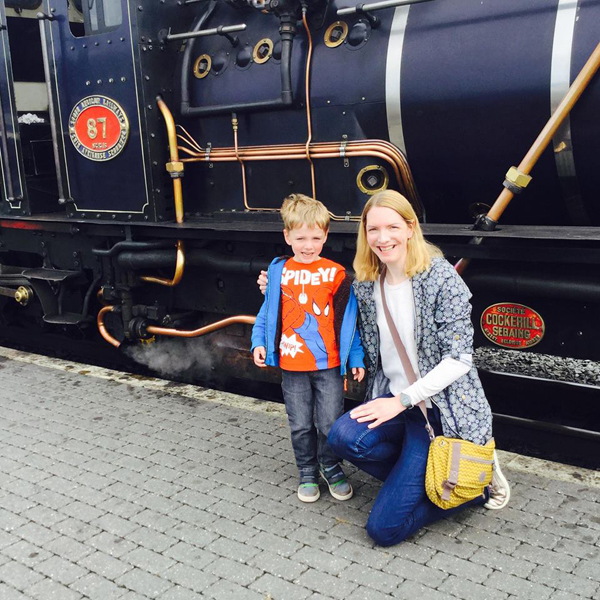 About me/us: So a bit about me, well, errr, I'd describe myself as a scientist (not of the 'mad' variety I don't think – but perhaps my husband would say different!) and mum who loves travelling, photography and motorsport and has a BIG softy spot for the North of Wales. By sharing our experiences of North Wales we really hope to entice people to come to this amazing part of the country – to explore, create memories and have LOTS of fun. We visited the area many times on day trips and holidays over the years and it holds lots of special memories for us. We are now fortunate enough to own a holiday cottage in Trefor on the Llyn Peninsula and as well as enjoying weekends and family holidays here through the year we are also able to welcome guests to this fabulous little corner of North Wales and hopefully pass on our enthusiasm and love for the area.
Website: www.penhendre.com
Facebook: Pen Hendre Holiday Cottage
Twitter: @PenHendre
If you would like to guest blog post for us please contact digital@nwt.co.uk
Related
0 Comments