I'm A Celebrity…Get Me Out Of Here!
I'm A Celebrity…Get Me Out Of Here! The year the show came to North Wales
The show in 2020 was filmed at the historic Gwrych Castle, Abergele in North Wales.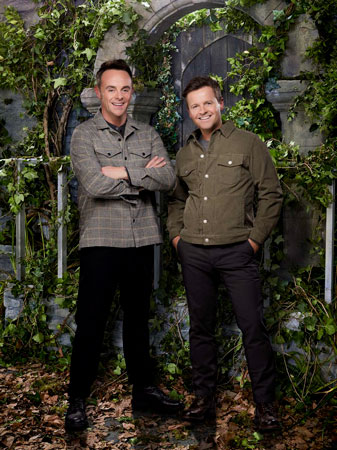 Ant & Dec will host an adapted version of I'm A Celebrity…Get Me Out Of Here! live every night on ITV from the castle. As on the regular series, viewers will see the celebrities undertake gruelling trials and fun-filled challenges to win food and treats in the lead up to one of them being crowned, for the first time ever, King or Queen of the Castle.
Last year's highlights included Caitlyn Jenner giving Ant & Dec the silent treatment after a messy Bushtucker Trial, Roman Kemp's celebrity impressions, Andy Whyment and Cliff Parisi's hilarious entrance into the Jungle via Ol' Dingo Town and Jacqueline Jossa being crowned Queen of the Jungle.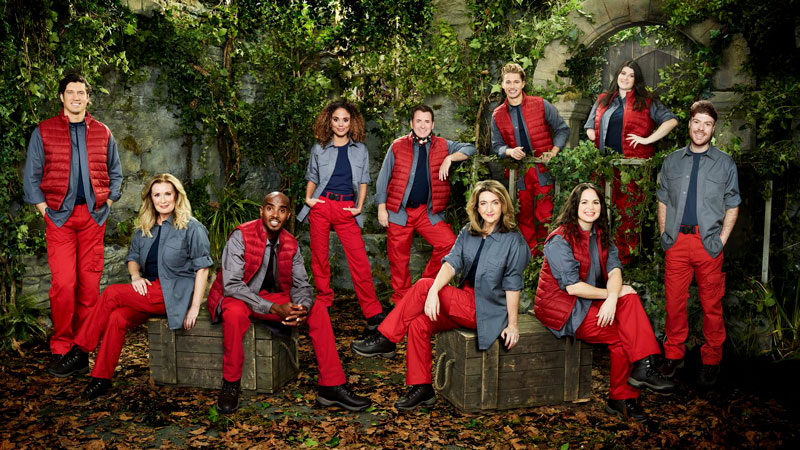 The ten celebrities heading into the Castle for the new series are:
TV Presenter – Vernon Kay
Broadcaster & Journalist– Victoria Derbyshire
Star of Stage & Screen –Shane Richie
Paralympic Gold Medallist –Hollie Arnold MBE
Radio 1 DJ – Jordan North
Corrie Icon – Beverley Callard
Ballroom Dancer – AJ Pritchard
Author & Podcaster – Giovanna Fletcher
Olympic Legend – Sir Mo Farah CBE
Soap Star – Jessica Plummer
Show website https://www.itv.com/imacelebrity
The campmates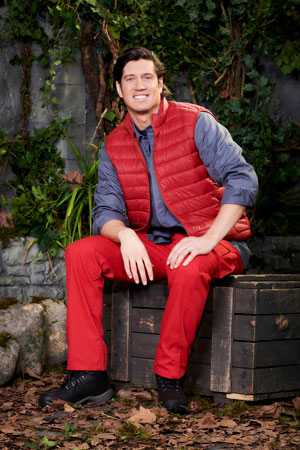 Image credit ITV
TV presenter, Vernon Kay, reveals he has signed up to I'm A Celebrity to make his two daughters proud. And the star admits it is all down to daughters, Phoebe and Amber, that he has agreed to join his fellow celebrities in the Welsh camp this year even though he knows he will be a big softie and cry. "One hundred per cent I will cry," says the TV entertainer. "My favourite movie is Forrest Gump. I have seen it at least 100 times and I cry every time I watch it. "But I am excited about doing I'm a Celebrity. The physical and mental challenges will be really interesting." "I am also looking forward to finding out who my camp mates are and building relationships with those guys - finding out who they are and what makes them who they are." "Mainly though I am doing it for my daughters, Phoebe and Amber." "It's a show they watch on a regular basis and they get behind the people in the camp. I think the fact I am involved in it will make it even more fun for them! "And now it is approaching, they are so excited. Every time I talk about it, I get a double fist pump from them and they are thrilled to be involved." His wife, Tess Daly, is also fully supportive of him taking part, adds Vernon, and he knows the whole family will be rooting for him when he takes part in a trial – particularly anything that involves him going underwater. "I am scared of confined spaces and being claustrophobic in water is a big one," he admits. "I don't like that. The coffin trial? I am 6 ft 4 and so it is going to take a heck of a lot of water to get to my nose! "But I will try my best in the trials to get as many stars as I can for my camp mates." Asked how he feels about a strict diet of rice and beans and Vernon reveals he isn't sure how he is going to be on small rations. The American football fanatic says: "I like being full. I don t like being peckish and I will be scraping around looking for leftovers. That is the one thing I am hoping to discover about myself - how I am when I am hungry!" But he jokes it won't be too problematic in the camp kitchen. "Let's be honest, I'm A Celebrity is not about cooking," he adds. "All you do is boil and fry! "I am hoping I can stay positive throughout it all. People will get fed up, bored and tired and I hope I can try and keep everything positive. " After a crazy year thanks to the pandemic, Vernon says he is also happy to be working again. The TV star says: "I am not missing anything as 2020 has been a kick in the nuts for everyone! I have not been working really this year and so we will have to see how this goes now!" So does he hope to be crowned 'King of the Castle?' "I have not thought about winning," he replies. "I just want to embrace it for what it is. We are going to be doing challenges that Go Ape would dream of! "And the one trial I hope rolls over from Australia is that big water slide at the end. I love that!" He laughs and then adds: "I saw Dermot O'Leary and Rochelle Humes the other day and they said 'its horrific' but I told them it was only a telly show! And it is. We might not necessarily be wearing the hats with the cork on it this year and yes it will be different by being in Wales but there is a lot of intrigue already and I am excited."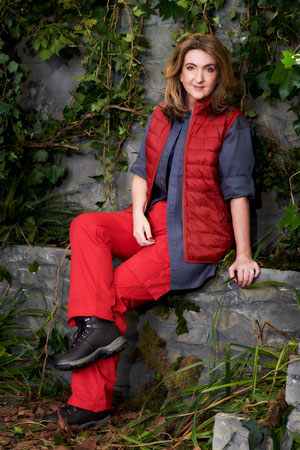 Image credit ITV
Distinguished BBC news presenter Victoria Derbyshire admits beating breast cancer has made her more determined than ever to take on new challenges – and it is one of the reasons why she is taking part in this year's I'm A Celebrity. Admitting her BBC colleagues will be surprised when they find out she is going to the Welsh castle, Victoria, 52, says cancer has taught her to have fun. "This is a mad thrill adventure that I want to take part in," explains Victoria. "Because of cancer, I know more than lots of people, life is short. I am now saying 'yes' to stuff I wouldn't have done previously. And if I don't do my boys proud, I will never live it down! "They really, really want me to do it and they have kept it a secret for months now because they want me to do it so much! "They do think it is cool I am doing it because this is their programme of the year. My husband is also so happy I am doing it. He thinks I will love it, throw myself into it and he said if it makes me happy, he is happy. They are on the journey with me!" Reflecting on the reaction of her fellow news presenters, she adds: "They will be probably quite surprised and taken aback but anyone who knows me well knows I like an adventure." She says she is most looking forward to having a 'laugh' after such a 'challenging and crazy year'. So how will the news junkie feel about not being able to know what is going on in the world? "I will find it difficult not knowing what is going on in the news but there is nothing I can do about that," she replies. "But it will be absolutely surreal! I keep up with the news minute by minute every day and suddenly there will be a void but that is also quite thrilling because we will have to fill it by finding out about each other and working as a team. It will be a digital detox!" Determined to throw herself into the trials, Victoria has vowed to definitely not refuse to give anything a go. "There is no way I will point blank refuse to do a trial," she declares. "You watch it and think 'there is no way I can do that' but when they get into the camp, something changes – whether that is wanting to try their best or not letting their team down. People challenge themselves to do it and I love that." An outgoing person, Victoria won't, however, hold back if something needs to be said. She explains: "I am quite good at saying uncomfortable things that need to be said in an alright way. This will be the ultimate test!" She also thinks her maternal side will come out in the camp. She says: "I can boil rice but I can't cook! I am a good listener and I enjoy talking to people. I am looking forward to having some fun and making some new friends." Pausing, she laughs as she reveals her preparation at home in the run-up to going to Wales. "Whenever I see a spider now," adds Victoria. "I allow it to crawl on my hand! Obviously it is only one but it makes me feel like I have achieved something! I am also trying other food and I ate pigs' cheeks the other week! They were delicious but they had a lovely sauce with them!" As for whether she thinks she will win and it's a resounding no. "But gosh it would be unbelievable if I did," she adds. "I wouldn't be able to believe it!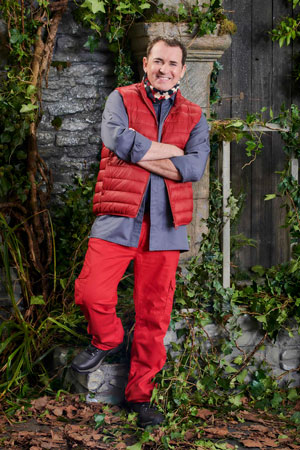 Image credit ITV
Former EastEnders star Shane Richie has been keeping it a big secret that he is taking part in this year's I'm A Celebrity since January but after Covid put a stop to his other work plans, he says he can't wait to be around adults again. Admitting he has been asked many times before, the actor – known to millions as Alfie Moon in the BBC soap – says he snapped up the offer this year as it was the show's 20th anniversary. "We got the call in January and I agreed to do it because it was the 20th one," he says. "My kids were old enough to travel to Australia and they wanted to meet Ant and Dec! We were all really excited. "We were going to fit it around my other work projects as I was going on tour, doing a TV series and panto but that all got cancelled in March. "And now I am literally skint! You save money for a rainy day but you don't expect the rainy day to last six months. Thankfully I've been able to borrow money from mates, my family and the bank and my wife is now very happy we can finally pay off the credit card! "But what an honour to be asked before lockdown. I am so grateful and I am really looking forward to being around adults again instead of my wife and three children!" As well as chatting to new friends in camp, the loveable actor is also looking forward to facing up to 'adrenaline and fear'. "When I first got asked to be in EastEnders in 2002 to play Alfie, I didn't know what was going to happen," he explains. "There is something about adrenaline and fear and that's what I am looking forward to when I take part in this show. You aren't going to know what to expect because we are now going to North Wales where sitting around a roaring fire is going to be more important than any other year because it will be cold and dark." An all-round entertainer, Shane insists, however, he doesn't want to be the one trying to lift everyone's spirits. "I hope it doesn't come to picking myself up when others are down," he explains. "Otherwise it will be 'here comes that pain in the a**e who doesn't shut up!' I am happy to help with whatever needs to be done and I am all over poached eggs – but I can't cook otherwise!" Heights, claustrophobia or surviving on 600 calories a day won't be an issue for Shane either. In fact, he jokes it will be the perfect diet in the runup to one day returning to the West End. "600 calories a day is like a slice of cake on a Sunday," he adds. "But I have got to go straight back in the West End to play a drag queen in a dress and so I will look great!" "To make the kids proud would be so nice," adds Shane, 56. "They were too young for the height of Alfie Moon and they have only seen Daddy dressed as a drag queen!" Asked how he would feel if the show led to other TV opportunities and the honest star declares: "I do feel like I have come home. Everyone thinks of me as a BBC person but I am ITV. I was Mr Saturday night. Yeah I would love to do more entertainment shows again. If they said 'let's give Shanie a show,' wouldn't that be lovely?"

Image credit ITV
Hollie Arnold holds Paralympic, World, Commonwealth and European Gold medals in the F46 javelin event and says she hopes by taking part in I'm A Celebrity, she will inspire viewers to follow their dreams. "I don't want it to be about my disability," explains Hollie. "Yes I have a missing arm and I am in the Paralympics but I want to show people nothing stops me and it shouldn't stop anyone else either." "I hope by going on the programme, it inspires people. I want people to look and see that I am scared but I am giving it a go." "And now it is here, I am feeling excited. Yes it is scary but it couldn't have come at a better time! I can't wait!" Describing herself as an underdog, Hollie hopes viewers will get a chance to get to know her better. "I am really looking forward to meeting people," she adds. "They won't know me and so there is the feeling of being an underdog but hopefully by sharing my stories, people will get to understand what I have achieved." Although she readily admits some of the trials will be tough, Hollie is determined to give it her best shot. She says: "People might see me as someone who wins medals in sport and I just hope I can use my independence and the pressures I go through with athletics in the camp and the trials! "But I can't train for this and it's going to be a very big challenge!" And she thinks the hardest battle will be surviving on little food. Hollie predicts: "As an athlete, you have to intake a lot more calories as you have to fuel yourself for training and so it is going to be really hard to limit calories. I am not going to lie, I am probably going to be hangry Hollie but I will do my best to get myself and my team mates fed." Happy to muck in with everything, Hollie will also step in to defuse any tensions within the castle. "I am strong minded but I respect other people too and so I will be the peace maker," she reveals. "I love cooking and I will be a shoulder to cry on as well. I will also probably end up singing! I will try and help people as much as possible." Asked who her own idol is and Hollie replies: "I love Michelle Keegan. She is so beautiful and she seems so down to earth. She is someone I would look up to." Although she has kept her appearance on I'm A Celebrity a secret, the 26-year-old, who was awarded a MBE for her services to field athletics three years ago, says both her parents and boyfriend can't wait for her to go on the show – even if she does get emotional. "I definitely am an emotional person and I probably will cry," Hollie adds. "I think people will understand. My Mum and Dad are really excited for this opportunity because it is something completely different. "And when my fellow sports friends find out, I know they will also think it is incredible. They know me as girly girly, so they will know I am completely out of my comfort zone!" And whilst Hollie is normally very focused on winning Gold in sport, she says she has definitely not thought about what it would feel like to win I'm A Celebrity. "I haven't thought about it as you get lost in thought," she explains. "But if I could get that far, it would be incredible and it would change my life!" "You just have to give it all a go. I am so excited!"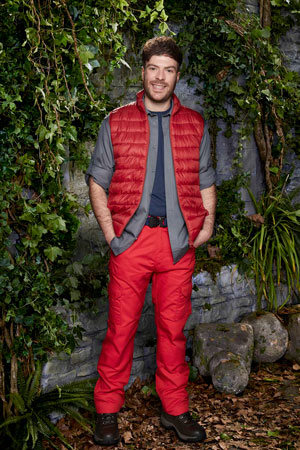 Image credit ITV
Radio 1 DJ Jordan North reckons I'm A Celebrity will be the perfect tonic for the nation this year as he reveals he is petrified of everything. And the BBC radio presenter admits it's going to be surreal to finally meet his own childhood heroes – presenters Ant and Dec. "I've been watching this show ever since it started, I can remember Kerry Katona doing it all those years ago!" says Jordan. "With everything going on this year, people will want this show on TV more than anything. We all need it. It's my favourite show on the telly and to be part of it is a big honour. My co-presenter at Radio 1, Emily Atack, talked so lovingly about it all and you can't turn something like this down." "I have never met Ant and Dec either and I am so excited to meet them. I loved them on SM:TV doing Wonky Donkey!" "I have got so many phobias and fears. I am worried I will let people down but I also want to give the trials my best go. I hope Radio 1 listeners will get behind me." Looking forward to meeting the rest of his fellow celebrities, Jordan thinks it will be tough surviving on rice and beans. "I will be the chief cleaner," he predicts. "A tidy camp is a happy camp. I do love my food though and I just think it is easier to go in cold turkey! If I start worrying, I am going to start over thinking it and so I have been eating loads beforehand – a bit like an animal does before it hibernates!" He thinks, however, it will be very weird not to have his phone with him. Says Jordan: "I am always on the phone and I am always checking social media, so that will be weird." Laughing, the DJ thinks it will be very tough not being able to have a pint of Guinness. "I will miss Guinness," he adds. "I always have a little Friday Guinness and that is what I missed in lockdown. Cans aren't the same!" So who would he like to join him in the camp? "Barack Obama and Liam Gallagher," he replies. "Liam would have some great stories to tell and he would be good for entertainment value!" "I do think my listeners will see another side to me. When you hear me on the radio, what you see is what you get. I don't pretend to be anyone else and when I am on the radio, you are energetic as that is how I want my show to sound. But I am not always like that!" As for what his fellow Radio 1 DJs will say when they find out he is going to the Welsh castle Jordan thinks they will be very surprised. "I am their little brother at Radio 1," he explains. "Greg James comes for pints with me and it just never seems real! This is the job I have always wanted and I hope they do get behind me. Hopefully by going on I'm a Celebrity, it will keep me on Radio 1 for a few more years too!" "I was a bit worried about asking for time off but my bosses have been so supportive. They were jumping for joy saying I had to do it when I told them." Hoping he won't be the first to leave the camp, Jordan laughs as he reveals he definitely isn't going on the programme to find love. "I am single at the moment," he adds. "But that is not the reason why I am going in! I just want to have fun and this is something that will stick with you forever. The fact I am going to be doing it doesn't seem real."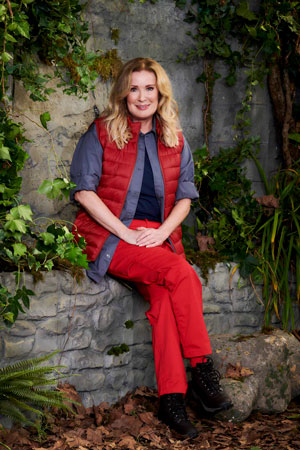 Image credit ITV
She has played one of Coronation Street's most iconic characters on and off for more than 30 years but as Beverley Callard swaps the cobbles for a Welsh castle, the actress promises she definitely won't be turning up with a wonder bra and short skirt on. Laughing, the legendary star – known to millions as Corrie's Liz McDonald – stresses she is worlds' apart from her on-screen character and thinks viewers will get a shock to learn she definitely isn't glamorous. Says Beverley: "I think as I have played Liz for so long, people think I am quite glamorous and they think I am covered in make-up all the time." "They do see me as Liz and I think they think I will be going in with a wonder bra on and a very short skirt! "Well to be totally honest, I am just the opposite! I hate being dressed up and I don't care if my nails break either! I am quite at home in comfy baggy clothes." Revealing she has been asked many times before to take part in I'm A Celebrity, Beverley says she decided to take the plunge after making the big decision to quit Corrie earlier this year. "I felt that after 31 years Liz had run her course, "she explains. "And normally, I would have said 'thank you but no thank you'. But this year, I decided to go for it. Doing I'm A Celebrity is an adventure and definitely out of my comfort zone!" So what do her co-stars think about her going on this year's I'm A Celebrity? Beverley predicts they will be shocked when they find out because she didn't breathe a word to anyone beforehand. "I didn't tell anybody I was going in," she explains. "There was some speculation but I know they will have gone 'of course she isn't. Beverley would never have said yes to that!' So I think they will be shocked." Admitting she is 'rubbish' at cooking, Beverley adds: "I think I will be the cleaner upper in the camp but if they need me to cook, they will starve! I am rubbish! "I think I will be ok living with strangers but the only thing that worries me is the toilet side of things and personal hygiene." Over the past few months, the 63-year-old has been at home recovering from major hip surgery. She says it has meant long periods at home and so the prospect of being put together with a new group of celebrities excites her. "After lockdown because I had a hip operation I was still at home," she says. "But I am not good at being at home and I have not met any new people for months, so this chance will be really good." "Sitting around the camp doesn't bother me because it is a chance to chat!" Asked what she will miss the most and the actress says she knows it is going to be tough not being able to speak to her husband every day. But it's her four legged friends who she will find being separated from particularly tough. "It will be really weird but I think I will miss my dogs even more than Jon!" adds Beverley. As much-loved Liz, Beverley is one of Corrie's all time favourite actresses. So does she think she will be crowned Queen of the Castle? "Oh listen I won't win," she replies. "But I must say that because this year has been really lonely for everyone, I feel quite lucky that the end of the year for me will be this amazing experience."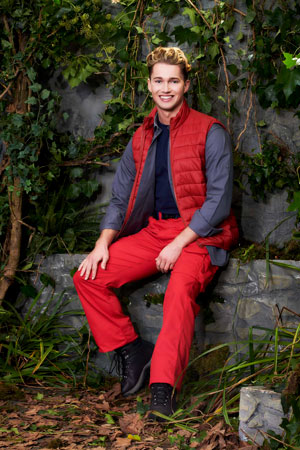 Image credit ITV
Strictly Come Dancing's AJ Pritchard may be swapping the glitzy ballroom for a Welsh castle but as a show super fan, he can't wait to take part in what he describes as 'the best programme on TV'. And the excited star admits he is looking forward to having a digital detox as he focuses on putting '110 per cent effort' into winning as many stars as he can for his fellow camp mates. "Doing I'm A Celebrity is a childhood dream come true," explains AJ. "I was so excited to watch the return of Strictly this Autumn but now I am going to be on an even better show! I can't wait!" "I think my friends from Strictly like Neil (Jones) and Janette (Manrara) are going to watch, which is really nice. They have always known how much I have wanted to do this programme as I have talked about it all the time!" Asked what he is most looking forward to and the professional dancer replies: "When I walk into the camp for the first time, I will be like the kid in the candy shop! "People see me on Strictly with fake tan and sparkles but nobody knows me. It will be nice for people to see me and get to know who I am." "I am unbelievably competitive and whatever the challenge is, I will go for it. I will give everything 110 per cent. I really appreciate life and I never take anything for granted. I will be trying to come back with all the stars every single time and if I don't, I think I will be disappointed." AJ – whose decision to quit Strictly earlier this year was a big shock – does reveal, however, he could have issues with any trial that involves a coffin. "Being trapped in a confined space will get to me for sure. And heights are not my friend too much either! "But I am looking forward to a digital detox. It will definitely be a positive when you consider how much you work from your phone. My phone is attached to my hip 24/7!" With his stage projects on hold thanks to Covid, AJ says he knows the harsh camp conditions will prove tough at times. "I think I will be hangry," says the dancer when asked how he will feel eating rice and beans. "And I do think I will get upset at some point. I don't know why I will but I do know there will be a moment! It's only natural." As for whether he'd like to be crowned 'King of the Castle' and it's a resounding 'yes' especially as he never lifted the glitter ball trophy on Strictly. Aside from taking part on the hit series, AJ also hopes it will lead to other TV opportunities. "My push is to do more TV presenting with my brother, Curtis," he explains. "We've done things on Lorraine but we would love to have our own TV show together. He is so excited and he can't wait for everyone to see me in there. We've got a podcast now and he will be talking about me on that too!"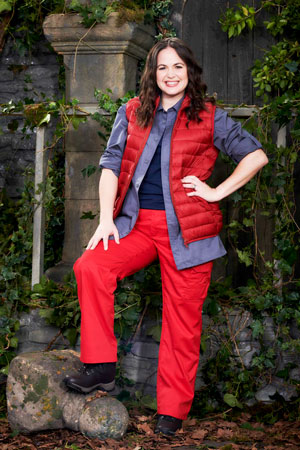 Image credit ITV
Popular Podcaster Giovanna Fletcher has revealed how she and her family have practised I'm A Celebrity trials with runner beans. Laughing, Giovanna– who is married to Tom Fletcher from McFly and who has more than a million Instagram followers – says they have set their very own eating trials in the past with vegetables. "Years ago we started doing a runner bean challenge which is based on I'm A Celebrity," she explains. "It's where we pretend we are doing an eating trial but actually we are eating our vegetables really fast! Challenges like this find a way of becoming part of the family dynamic and I can't wait to do this." Giovanna – who has interviewed dozens of famous faces, including the Duchess of Cambridge, for her podcast – adds: "As soon as I got the call asking if I would take part, it was a no brainer for me as I am such a fan. It's going to be so weird when I arrive, as it will be like stepping inside my TV!" "I'm A Celebrity is such feel good television and I can't wait to take on the trials and be part of the camp." Admitting it will be the longest she will have ever been apart from her family, Giovanna, 35, insists, however, that Tom doesn't wish he was going instead of her. "No Tom isn't jealous," she says. "Out of the two of us, I am the one getting the spiders out the house! He is very proud and excited." "He knows I have always said I would love to do the programme and it will be exciting for all of them watching me do it! Every time we will have a trial, in the back of my mind, I will be thinking about the boys watching and what they are going to be making of it. I want to do them proud!" "It is the longest I have ever been away from them but it is also an amazing opportunity and I know it is something we can talk about for years to come and say 'remember when mum did that thing!'" In 2011, her husband's McFly band mate, Dougie Poynter, won I'm A Celebrity. Has he given her any tips? "He is excited by it," she replies. "He doesn't think I am bonkers going in as he knows how much I love doing things like this. I've done treks in the past and I know how great lifestyle things like this can be important for mental health." As for what her own social media followers will think when they find out she is going to the Welsh castle and Giovanna declares: "They are going to be surprised, amazingly supportive and I think they will really enjoy it. I think as a mum, you struggle with the idea to have a minute to yourself and this is quite a big thing I am taking on! But I am lucky as I know my boys will be very well looked after." So how does another title – 'Queen of the Castle' – to add to her many talents sound? "Being Queen would be an absolute joy," she replies. "But I haven't thought that far ahead. Just doing the show is incredible because I am such a massive fan."

Image credit ITV
He is the most decorated track and field athlete in modern Olympic Games history and now as Sir Mo Farah enters the I'm A Celebrity camp, he admits people will be very surprised he is taking part. But the double Olympic champion at the 2012 and 2016 Games in both the 5000 and 10,000 metre races says it has always been a big goal to appear on the programme after watching it as a fan. And so when he was approached by ITV for the first time this year, Sir Mo, 37, says he couldn't resist accepting the offer to test himself in an arena away from running. Explaining his reasons for going on I'm A Celebrity, Sir Mo says: "I've watched it on telly and thought to myself I would like to challenge myself and see what I can do – and so that is the whole reason behind it." "I know a lot of people will be surprised as they don't see me in that way. They associate me with running and winning but nothing other than that. And my kids have been on at me too saying 'I can't see you doing that dad' but I want to give it a go! "I want to have fun in the camp!" And now as he prepares to enter, the longdistance champion says he is raring to go. "I am excited and it's definitely sinking in now," he says. "It's so out of my comfort zone but I just want to go in there and be myself. I am most looking forward to meeting different people, getting challenges thrown at you and working as a team." Is he scared of anything? "I am fearful of everything that moves – all animals!" he replies, laughing as he does. "But I am not bothered if the castle is haunted and I'm not too bad with heights either." Given that he is such an iconic sporting legend, does he feel under enormous pressure to do well in the trials? "I think there will be a lot of pressure but hopefully it should be good," says determined Sir Mo. "I know the eating trials involve yucky stuff but you just have to hold your nose and crack on!" Revealing he doesn't mind cooking, the athlete is considering running training sessions for the rest of the camp. "I love to exercise," he explains. "And when I don't train I go a bit mad! I am missing training whilst I am in the camp and my coach isn't very happy!" And even though he is used to being away from his family to race abroad, Sir Mo says it will still feel strange not being able to chat on the phone or FaceTime. "I am hoping there will be a task where you are given a photo," he adds. "I am going to miss them. My eldest child knows and she thinks I am crazy! My wife thinks it is hilarious and she has told me she can't wait to watch!" Aside from his family, Sir Mo thinks he will crave coffee. The lack of food won't, however, be such a big deal nor does he think the rest of the camp will rub him up the wrong way. "I am not a big fan of food and I don't mind eating rice and beans for weeks and months," adds the athlete. "I am quite laid back." So how would he feel being crowned the King of the Castle? "Hopefully I can do well but I don't know if I am going to be booted out in the first week," he says. "You just have to be you…I am going to learn a few things about myself that is for sure."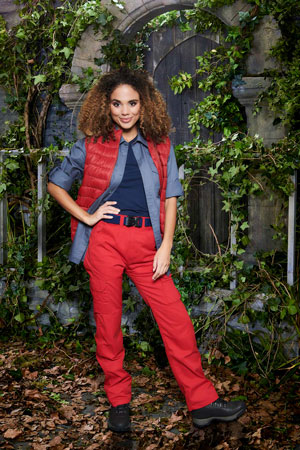 Image credit ITV
Former EastEnders actress Jessica Plummer is hoping to cure her fears in the Welsh castle as she admits her family think she is 'mental' for taking part. Laughing, the 28-year-old – known to millions as Chantelle Atkins who was killed off earlier this year in the BBC soap – also reveals those closest to her can't believe she is giving up her luxuries to live in basic living conditions. "Everyone I have told think I am mental," she admits. "My family are all like 'Jess seriously, you are such a scaredy cat and you are so precious about your luxuries, what are you signing up for?!" "But I have reminded them I did go camping as a kid and I know I have got it in me. I am quite competitive, I played sports as a kid and I would really beat myself up if I didn't give it my all. Hopefully this will spur me on!" Reflecting on the fact she has a phobia regarding everything that could possibly happen on I'm A Celebrity, she continues: "I have got all the phobias. When my friends see me too, they are going to say 'what the hell? This doesn't make sense!" "But I keep having to tell myself that it is good to face your fears." All the trials, she adds, will be awful. "I am dreading all of them," she declares. "Are any of them nice? Are any better than another?! I remember watching the show in the past and always looking forward to the eating trial. Whether I want to be part of it is a different matter!" Given she is frightened of so many things, why did she sign up? "I can't wait to meet everyone else and I am going to do things that I would never ever have done otherwise," she replies. "It is going to be a huge experience and a once in a lifetime opportunity. I am really excited about who I am going to be staying with and the whole aim is to work as a team to survive." A single mum, Jess readily admits it's going to be tough being parted from her four-year-old daughter. It's the longest time they have been apart. "I am going to miss her more than anything," she says. "And I will miss her the most. But I know she will be able to see me on TV and she will get me through it." Taking comfort from the fact that her daughter will be rooting for her at home, Jess is excited about being given the chance to show the nation what she is like as herself rather than her character, Chantelle. Says Jess: "Everyone has loved my character in EastEnders and hopefully I will live up to the standard already set up for the face people recognise. Hopefully they will like me too!" "Doing I'm A Celebrity will give people a chance to see more of who I am and they will be able to see the differences between me and the character I am known for playing." Admitting she loves her food, the actress thinks living on 'rice and beans' will be tough but she takes comfort from the fact it is healthy. "I love food," she explains. "And maybe after two weeks, I will get used to it. But rice and beans are vegan foods – so they are good for you!" "I do think I will help with the cooking as I will definitely muck in with all the jobs." "I feel like I am going to be the person people come to. I love having conversations and I will probably be the little chatterbox who doesn't shut up! I do enjoy being looked after so potentially I will be the little sister in the castle too." "Now it's nearly here, everything is sinking in and I am excited."
Source credit itv.com