Pavilion Theatre Rhyl

Promenade
Rhyl
Denbighshire
LL18 3AQ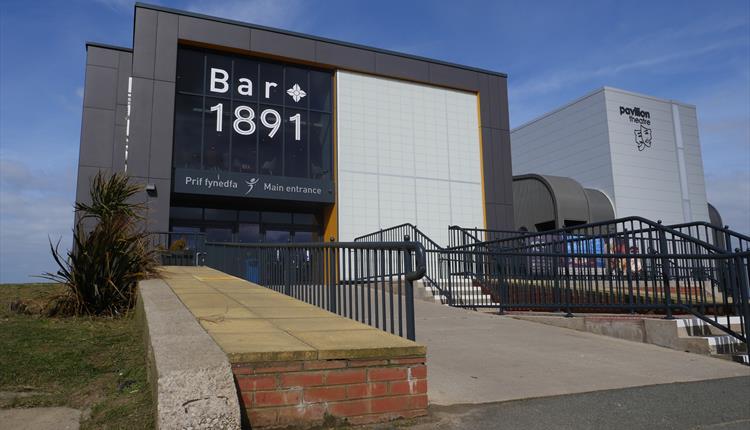 About
Located on the seafront of Rhyl, the Pavilion Theatre is managed by Denbighshire County Council. The 1,031 seat theatre was designed to accommodate a variety of productions from all genres.
The Pavilion programmes a broad range of activities – recent productions have included Mrs Brown's Boys, Chicago, Little Mix, Olly Murs and John Bishop to name but a few. Besides large scale productions, the Pavilion Theatre is committed to facilitating theatre and dance in the community as well as school productions.
The Pavilion Theatre's mission statement reads, "The Pavilion Theatre believes that the arts are for everyone to experience and enjoy, and will positively encourage access to those experiences for all members of the community within the allocated budget".
The current Pavilion Theatre is in fact the third Pavilion in Rhyl. The first Pavilion was sited at the promenade end of Rhyl Pier and seated over 3,000. Built in 1891, it was destroyed by fire in 1901.
The second Pavilion was built in 1908 at a cost of £16,500 and seated just over 1,000. It did a great service to Rhyl in playing host to international artists, and presenting a vast number of productions and significant community events. When, in 1974, the Pavilion was demolished it was compared by everyone in the town to "losing a dear friend".
The current Pavilion was opened in 1991 and fulfilled a commitment made by the then Borough Council seventeen years earlier.
NOW OPEN - 1891 Restaurant A contemporary and stylish first floor restaurant and bar located on the waterfront at the Pavilion Theatre in Rhyl. To book call 01745 330000 or email 1891@denbighshire.gov.ukwww.1891rhyl.com
Facilities
Accessibility
All Areas Accessible to Disabled Visitors
Assistance Dogs Permitted
Facilities for Hearing Impaired Visitors
Facility for service dogs
Parking Areas for Disabled Visitors
Ramp / Level Access
Toilets for Disabled Visitors
Catering
Parking & Transport
Accessible by public transport
On site parking
Parking (charge)
Parking (free)
Payment Methods
Major credit cards accepted
Provider Facilities
Provider Features
Opening Times
* Box Office opening hours: Monday - Saturday 10am - Curtain Up (performance days) 10am - 6pm (non-performance days). Sunday 4pm - curtain up (performance days) Closed - non -performance days.