Itinerary Planner
Products in this Suggested Itinerary
Things to do in Rhyl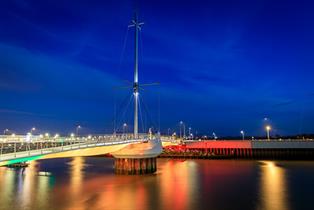 On the north east coast of Wales in Denbighshire is the seaside town of Rhyl which sits at the mouth of the River Clwyd. It is a popular coastal resort and one of the biggest towns in North Wales which has seen a significant amount of investment and redevelopment in recent years.
Fun filled days abound for the whole family in Rhyl. With the Children's Village on the Promenade, golden sands, amusements, boating pools, there's something for everyone.
Rhyl has a sandy 2 mile beach which can be up to ½ mile wide on a low tide. Dogs are not allowed on the beach from 1st May until 30th September. Further along located alongside the River Clwyd estuary is the Marine Lake. Previously an area of marshland, Marine Lake was transformed into a Victorian fun fair with waterslides and attractions in 1895 and is now the only saltwater lake in Wales. The island in the centre of Marine Lake and the surrounding area forms a haven for wildlife. There is a 1.5km / 1 mile walk around the perimeter of Marine Lake which offers the best way to witness and experience the resident wildlife. The path is a tarmac surface and easily accessible by everyone. You can get to Marine Lake by bike from National Route 5, public transport or walking from Rhyl town centre.
Brickfield Pond, set in West Rhyl, is a local nature reserve popular for a range of recreational activities, including a 1km circular route of the pond. The site was once a clay pit, which was later filled in to create the Brickfield Pond we see today. It is a great place to feed the ducks and spot a variety of water birds including mallard, mute swan and moor hen. On occasions you may also see king fisher, grey heron and sand martin.
A couple of kilometres walk from the railway station you come to the marina, and Pont y Ddraig Harbour bridge (Dragon's Bridge). It is a small pedestrian bridge which opens for boats entering and leaving the marina. It is unusual because it has a tall central mast, and a pulley system which draws the bridge platform on either side up to it when opening. Pont y Ddraig (Dragon's Bridge) provides the final link in 15 miles (24km) of traffic-free cycling across Conwy and Denbighshire.
Dyserth waterfall, where the Afon (river) Ffyddion falls some 70 feet on its way to the River Clwyd is a small village on the outskirts of Rhyl. Legend has it that medieval walls housed a giant water wheel, powered by Rhaeadr Dyserth, and several mills popped up along the river in years to follow.

Create a personalised itinerary (This will replace all items in your planner)
Product Information
The Theatre prides itself on the fact that it can attract world-class artists and play week runs of West End Musicals, whilst at the same time it can accommodate and facilitate vibrant Theatre in the Community, Community Dance and groups.

Rhyl is a long and sandy beach located on the North Wales Coast

Britain's oldest miniature railway - train rides around Marine Lake since 1911. Museum with interactive touch screen, gift shop and toilets.

9 hole, 6220 yds (18), par 70, SSS 70, Links. Rhyl golf course is a 9 hole (18 tee) challenging links with large fairways but tight, well guarded greens which will challenge golfers of all standards.

SeaQuarium offers an underwater voyage of discovery, where you can experience aquatic life from several regions of the world including the Amazon, the Pacific Ocean, the Indian Ocean, the Red Sea and from our own shores around Britain.

Brickfield Pond, set in West Rhyl, is a local nature reserve popular for a range of recreational activities, including a 1km circular route of the pond.

Dyserth waterfall, where the Afon (river) Ffyddion falls some 70 feet on its way to the River Clwyd is a small village on the outskirts of Rhyl. Legend has it that medieval walls housed a giant water wheel, powered by Rhaeadr Dyserth, and several mills popped up along the river in years to follow.

The Marine Lake, an artificial excavation in the west of the town, used to be a tourist destination, with fairground rides and a zoo.

We are a large family arcade with childrens play area, 10 pin bowling, bingo and cash casino lounge.


Located at Lyons Robin Hood Holiday Park, on the Coast Road between Rhyl and Prestatyn is the fantastic 18 hole Pirate Island Crazy Golf Course. Perfect for families or couples, Pirate Island will challenge your golfing skills through different obstacles, placed along the way. From Pirates to…
Itinerary Distances
From
To
Distance * (metric)
Pavilion Theatre Rhyl

(53.32541,-3.48356)

Rhyl Miniature Railway

(53.31379,-3.50327)

1.66
Rhyl Miniature Railway

(53.31379,-3.50327)

Rhyl Golf Club

(53.32745,-3.46411)

2.71
Rhyl Golf Club

(53.32745,-3.46411)

SeaQuarium

(53.32356,-3.488)

1.48
SeaQuarium

(53.32356,-3.488)

Rhyl Library, Museum and Arts Centre

(53.32086,-3.48791)

0.27
Rhyl Library, Museum and Arts Centre

(53.32086,-3.48791)

Brickfield Pond

(53.31307,-3.5034)

1.21
Brickfield Pond

(53.31307,-3.5034)

Dyserth Waterfall

(53.30209,-3.41697)

5.29
Dyserth Waterfall

(53.30209,-3.41697)

Marine Lake Rhyl

(53.31291,-3.50359)

5.3
Marine Lake Rhyl

(53.31291,-3.50359)

SC2 Adventure Play

(53.31987,-3.49538)

0.85
SC2 Adventure Play

(53.31987,-3.49538)

Palace Fun Centre

(53.31897,-3.49535)

0.09
Palace Fun Centre

(53.31897,-3.49535)

Pirate Island Golf

(53.32851,-3.45063)

2.84
Total Distance *
21.71 miles
Estimated Journey Time
42 minutes
* Approximate distance by road
Create a personalised itinerary (This will replace all items in your planner)