What makes North Wales such a great destination for families with pets
One in 4 people in the UK have a dog, and as we know they are very important members of the family, and as such they should be made just as welcome as their owners.
It's important that dog owners have the option to bring their dog along on a trip with them, not only is it often cheaper than kennels but our holidays just aren't the same without our dog.
We're a nation of pet lovers, and holidays just aren't the same without our pets.
What should you look for in pet friendly destinations
We brand North Wales as the Adventure Capital - Not just the adrenalin driven adventure but an all-encompassing one, which includes Pet friendly adventures.
With plenty of pet-friendly holiday accommodation, beaches, pubs, green spaces to roam and even some cultural attractions too, there are plenty of things to do with your pup in the North Wales, most of our towns are also dog-friendly too.
You can tell instantly whether a destination is especially dog friendly, with water bowls, welcoming signage, dog bins, also close to great walks.
At our annual Go North Wales Tourism awards we have a pet friendly category, normally sponsored by Pet Place. We've had some worthy winners in the past, who go above and beyond to create the pet friendly experience. For example;
The Dog House in Denbighshire is a Victorian Corrugated-Iron Kennel Block lovingly transformed into a luxury Guest lodge with a wood fired hot-tub.
many dog themed items adorn;
The Doghouse such as the Dachshund kitchen roll holder,
Handmade dog paw shaped soap,
Doggie playing cards and
Dachshund shaped pillow hand made chocolates to mention but a few.
The Dog House include specific dog walking books and naturally hand-made dog treats and logo'd bathrobes.
And also practical items such as a dog poop bin and doggy bags.
The first pet friendly hotel on Anglesey!
On arrival they receive their own welcome letter, water and food bowl, treats , bags and towels.
Dogs are welcome in our Bar, Conservatory Restaurant and are always welcome to join their owners for dinner and breakfast.
Treats are available throughout the hotel, Reception and bar.
One in an enclosed field for those dogs who are not that skilled at the recall command and fancy themselves as Houdini.
The other being a 3 acre meadow field where a dog can safely run to its heart's desire, ears flapping in the wind, enjoying a sense of sheer freedom that is not quite so prolific for them these days.
643 dogs, 4 cats and a pet hedgehog have been flocking to Llanfair hall for their holidays. In just over 4 years!! And they keep on bringing their owners back, time and time again.
Top pet friendly recommendations across the region (beach/forest/mountain)
Mount Snowdon. Enjoy the very best of North Wales' scenery by climbing to its highest peak, Mount Snowdon's summit, which impressively stands at 1085m. Snowdonia National Park welcomes dogs on a lead, as long as fitness permits, so your four-legged friend can accompany you on a trek up the magnificent mountain.
Conwy Water Gardens, a great location for a family day out.
Llandudno is a great Victorian seaside resort, but a visit up the Great Orme will show you this area of Wales has been inhabited for thousands of years. The climb up and down the Great Orme is made far easier by the tramway, which welcomes dogs on leads and takes visitors up the Great Orme from very near the centre of town.
Conwy Morfa Beach.
Harlech Beach.
Greenwood Forest Park, a great location for a family day where dogs are very welcome.
The Ffestiniog Railway, the world's oldest narrow gauge railway which will take you on a 13½-mile journey from the harbour in Porthmadog to Blaenau Ffestiniog.The Welsh Highland Railway, the UK's longest heritage railway, which runs for 25 miles through some stunning Snowdonia scenery. Dogs are welcome in the third class sections of both railways and you'll be charged a standard fare of £3 per dog. Guide/assistance dogs travel for free and are welcome in all station buildings and carriage.
Dogs on short leads are welcome every day at Bodnant Garden in 2021.
Heading underground? Sygun Copper Mine is a Victorian mine that has been out of use since the early 1900s. It has been open as a tourist attraction for over 20 years and offers a fascinating day of adventure, exploring underground with your four-legged friend would certainly make for a day out with a difference
Beach takeaways
A walk along the beach isn't the same without a coffee or an ice cream, the following beaches have great takeaway facilities on route.
Barmouth.
Harlech Beach.
Talacre near Prestatyn.
Beaumaris, Anglesey.
Rhyl.
Colwyn Bay.
For a full list of dog friendly accommodation, follow the link below;
There you have it, just some of the reasons why North Wales is a great place to visit with your dogs.
---
Please be a responsible dog walker and follow the Countryside Code.
For safe and happy walks with your dog, and to avoid causing problems for others, Natural Resources Wales also has a Dog Walking Code.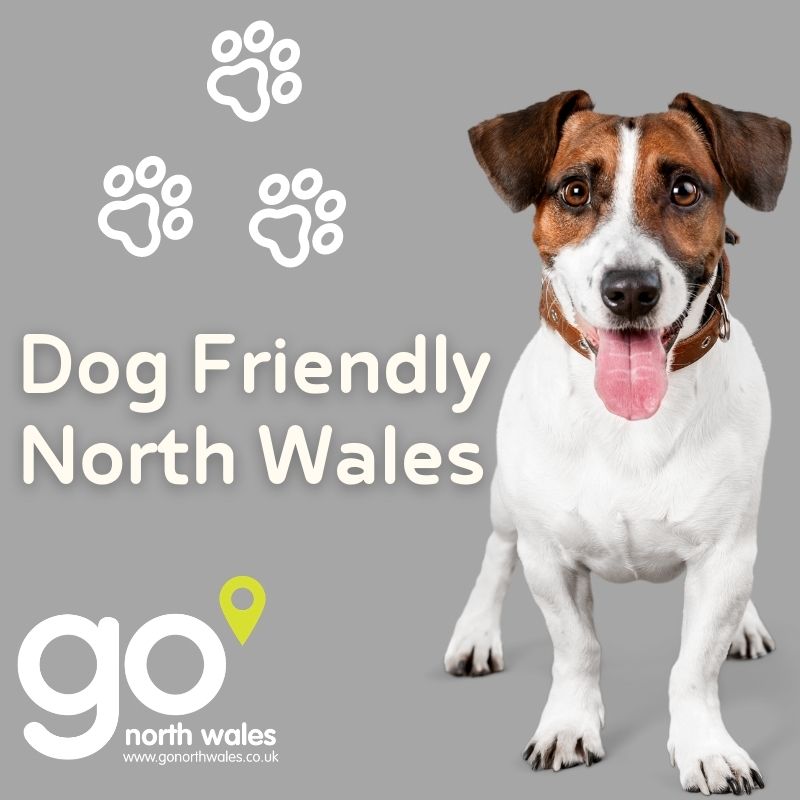 Related
0 Comments