Forget Valentine's day… St Dwynwen's Day is celebrated in Wales on the 25th January.
This Welsh celebration of love is to celebrate Santes Dwynwen, the Welsh Patron Saint of lovers.
And so the legend goes…
Dwynwen was one of Brychan Brycheiniog's 24 daughters, Dwynwen lived during the 5th century. It is said that Dwynwen was the prettiest of Brychan's daughters.
As with all great love stories there is a tale to tell. Dwynwen fell in love with a Prince named Maelon Dafodrill. This love story however, was not meant to be, Dwynwen's farther had already promised Dwynwen to another. Therfore as Dwynwen was forbidden to marry her true love, she begged to God that she could forget Maelon.
Dwynwen was then visited by an angel who brought with her a sweet potion. This potion would erase all memory of Maelon and turn him into a block of ice....
It is said that Dwynwen was then given three wishes by God, and so she wished firstly that Maelon be thawed, her second wish was that God meet the hopes and dreams or true lovers. Her third and final wish was that she would never marry. Dwynwen would then devote herself to God's service and she did, for the rest of her life.
Off the west coast of Anglesey, there lies Llanddwyn Island where Dwynwen founded a convent. This is a small tidal island near the town of Newborough, the name Llanddwyn means "The church of St. Dwynwen". The remains of her church can still be seen today.
After her death in 465AD, a well was named after Dwynwen on Llanddwyn and became a place of pilgrimage. Visitors to the well believed that the sacred fish or eels that lived in the well could foretell whether or not their relationship would be happy and whether love and happiness would be theirs.
Llanddwyn Island is still a popular spot with visitors today, and who can blame them.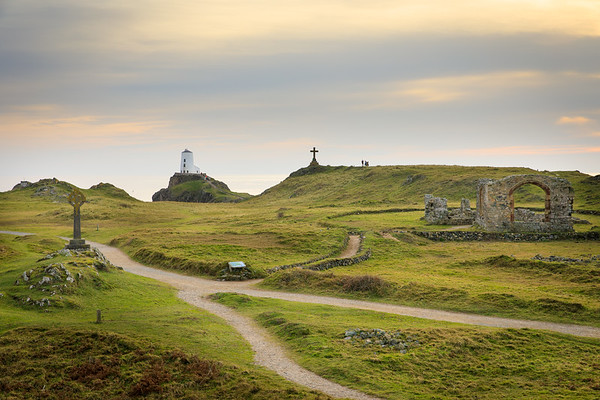 Celebrate Dydd Santes Dwynwen this Jauary 25th.
The traditional gift given on Dydd Santes Dwynwen is a love spoon.
Related
0 Comments