Itinerary Planner
Products in this Suggested Itinerary
Things to do in Porthmadog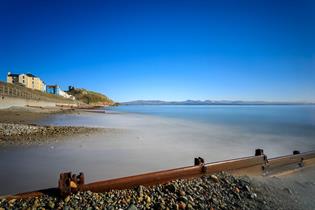 Porthmadog was once the busiest slate port in North Wales, and is now a busy harbour town, with a range of shops and attractions.Two miles away at Morfa Bychan is Black Rock Sands, a popular wide sandy beach, low-tide caves, rock pools and an area rich in marine life where it's possible to drive right onto the beach - a favourite with wind-surfers and kite buggy enthusiasts.
Between Black Rock Sands and Porthmadog is the small picturesque harbour village of Borth-y-Gest with its beautiful estuary and mountain views.
On the outskirts of Porthmadog is the town of Criccieth. The two beautiful beaches at Criccieth are separated by the medieval castle perched on a small headland and are only a short walk to the town. Dog restrictions apply April – September.

Create a personalised itinerary (This will replace all items in your planner)
Product Information
Black Rock Sands is a popular, sandy beach located on the southern coast of the Llyn Peninsula.

18 hole. Par 71 SSS 71, 6363 yds. Situated in the seaside village of Morfa Bychan renowned for its black rock ands, the course offers a mix of heathland and linksland for the discerning golfer.

Planning to travel on the amazing Ffestiniog Railway?...If so, click here to get the latest information direct from the official North Wales tourism site!

The WHHR is a small, friendly railway where the train ride is just part of the experience. Free guided tours at the heritage centre. Vintage train.
Itinerary Distances
From
To
Distance * (metric)
Black Rock Sands

(52.90432,-4.17059)

Porthmadog Golf Club

(52.91231,-4.1566)

1.16
Porthmadog Golf Club

(52.91231,-4.1566)

The Edinburgh Woollen Mill - Porthmadog

(52.9245,-4.12893)

2.07
The Edinburgh Woollen Mill - Porthmadog

(52.9245,-4.12893)

Ffestiniog Railway

(52.92404,-4.12637)

0.16
Ffestiniog Railway

(52.92404,-4.12637)

Rob Piercy Gallery

(52.92629,-4.12902)

0.28
Rob Piercy Gallery

(52.92629,-4.12902)

Welsh Highland Heritage Railway

(52.93104,-4.13245)

0.52
Total Distance *
4.19 miles
Estimated Journey Time
8 minutes
* Approximate distance by road
Create a personalised itinerary (This will replace all items in your planner)