Itinerary Planner
Products in this Suggested Itinerary
Things to do in Llangollen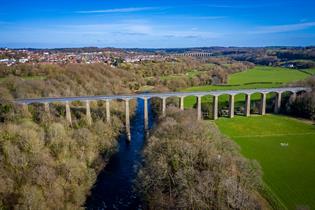 Once an important stop for travellers heading to and from London on the A5, Llangollen, situated on the banks of the River Dee is today a lively town with a range of places to visit, stay, eat and shop.
It lies clasped tightly in the narrow Dee Valley, between the Berin and Eglwysbach mountains. Along the valley's floor, the waters of the River Dee cut a wide arc around the base of Castell Dinas Bran, a conical tor surmounted by the evocative ruins of a native Welsh castle, built in the 1230s, above the town of Llangollen. Believed to have been built in the 1260s on the site of an Iron Age hillfort. Translate as 'crow's fortress' the castle would have provided a far reaching view over Llangollen.
The Dee licks the angled buttresses of Llangollen's weighty Gothic bridge, which has spanned the River since fourteenth century. The bridge that stands today dates from the 16th century. The bridge was originally built for pack horses and has been widened on a number of occasions to accommodate the road traffic.
The Church of St Collen was founded in the 6th century and has Medieval hammer beam roofs, from one of the finest roofs in Wales. The church dates back to the 13th Century however much of what stands today was part of the renovation in 1864. The Ladies of Llangollen memorial can also be found in the church grounds.

Create a personalised itinerary (This will replace all items in your planner)
Product Information
Tourist standard gauge railway operating between Llangollen and Carrog in Denbighshire (7.75 miles long), refreshment and facilities, souvenir shop.

A beautiful Championship golf course of the highest quality set in the Dee valley framed by the glorious Welsh Hills.

Designed and built by Thomas Telford and Williams Jessop, Pontcysyllte means 'the bridge that connects' and is 'the jewel in the crown' of our World Heritage Site, a magnet for those who want to experience one of the most remarkable achievements of the industrial revolution.

Plas Newydd was home to the Ladies of Llangollen from 1780 - 1829. The house retains the gothic features they introduced and is set in peaceful gardens surrounded by trees and includes the font from the nearby Valle Crucis Abbey.

The Dee licks the angled buttresses of Llangollen's weighty Gothic bridge, which has spanned the River since fourteenth century. The bridge that stands today dates from the 16th century. The bridge was originally built for pack horses and has been widened on a number of occasions to accommodate the…

Along the valley's floor, the waters of the River Dee cut a wide arc around the base of Castell Dinas Bran, a conical tor surmounted by the evocative ruins of a native Welsh castle, built in the 1230s, above the town of Llangollen. Believed to have been built in the 1260s on the site of an Iron Age…

The Church of St Collen was founded in the 6th century and has Medieval hammer beam roofs, from one of the finest roofs in Wales. The church dates back to the 13th Century however much of what stands today was part of the renovation in 1864. The Ladies of Llangollen memorial can also be found in…
Itinerary Distances
From
To
Distance * (metric)
Llangollen Railway Trust

(52.97107,-3.17055)

Vale of Llangollen Golf Club

(52.96702,-3.13364)

2.26
Vale of Llangollen Golf Club

(52.96702,-3.13364)

Pontcysyllte Aqueduct

(52.97166,-3.08752)

2.82
Pontcysyllte Aqueduct

(52.97166,-3.08752)

Plas Newydd

(52.96623,-3.16499)

4.71
Plas Newydd

(52.96623,-3.16499)

Castell Dinas Bran

(52.97917,-3.15929)

1.34
Total Distance *
11.13 miles
Estimated Journey Time
21 minutes
* Approximate distance by road
Create a personalised itinerary (This will replace all items in your planner)