Itinerary Planner
Products in this Suggested Itinerary
Things to do in Betws y Coed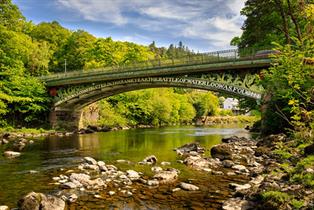 The bustling village of Betws-y-Coed, located among the tree clad hills of the Gwydyr Forest in the Snowdonia National Park has been a popular destination since Victorian times.
Gwydyr Forest is a forest of lakes with many walking paths and trails throughout, many of which are old miners routes. There are many remains through the forest of the former mines.
The beauty of the area is enhanced by cascading waterfalls including the famous Swallow Falls that sits on the Afon Llugwy which Lord Ancaster gifted to the council in 1913! There are also Conwy Falls, the enchanting gorge of the Fair Glen and hill-top lakes such as Elsi, Crafnant and Geirionydd.
The oldest building in Betws y Coed is located on the banks of the river Conwy – St Michael's Church. The church was built in the 14th century and is home to the stone effigy of Gruffydd ap Dafydd Goch. The church is open to the public 10am-5pm Easter – October.
Pont y Pair Bridge was originally built around 1500, before Thomas Telford built the Conwy suspension bridge, the Pont y Pair Bridge became an important bridge, as people were diverted to cross the river Conwy here. The bridge is still a main crossing point for traffic. There is also the Waterloo bridge, built in 1815 by Thomas Telford. The bridge is grade 1 listed as an example of early iron technology.

Create a personalised itinerary (This will replace all items in your planner)
Product Information
Panoramic Ogwen Falls or Rhaeadr Ogwen, as it is known in Welsh, is the site where the Ogwen River, emerging from Llyn Ogwen, begins its journey along the rugged Nant Ffrancon valley to the sea.

Have an adventure in North Wales. Go rock climbing, gorge scrambling or canyoning! Visit us in the beautiful village of Betws-y-Coed in the Snowdonia National Park.

Plas y Brenin, The National Outdoor Centre is the UK's home of true adventure. It is the place for everyone to come and discover new outdoor sports, improve their performance and have great adventures across a range of activities including climbing, hiking, kayaking, canoeing and mountain biking…

Go Below Underground Adventures gives visitors the opportunity to explore the hidden world beneath the mountains. Experience zip-lining through vast caverns, climbing vertical shafts, traversing over the abyss and abseiling your way down to the deepest point in the UK!

Pont y Pair Bridge was originally built around 1500, before Thomas Telford built the Conwy suspension bridge, the Pont y Pair Bridge became an important bridge, as people were diverted to cross the river Conwy here. The bridge is still a main crossing point for traffic. There is also the Waterloo…

The bustling village of Betws-y-Coed, located among the tree clad hills of the Gwydyr Forest in the Snowdonia National Park has been a popular destination since Victorian times.

Gwydyr Forest is a forest of lakes with many walking paths and trails throughout, many of which are old miners…

Buried deep under the mountains of Snowdonia lies an extraordinary story: it's a rock revolution that shaped the look and feel of the world as we know it. A way of life which built communities and defined generations of families in North Wales.

Discover the extraordinary story of Llechwedd with…

Antur Stiniog Bike Park with uplift service that has 10 trail variations graded from Green Beginners trail, an introduction to downhilling, through to Black Experts trail along with bike hire, shop and café, where a warm welcome is guaranteed. Check out our website for more details.

Uplift…

Bounce Below is the first facility of its kind in the world, located at the Zip World Titan site near Blaenau Ffestiniog, North Wales.

Plas Tan Y Bwlch is the Snowdonia National Park Centre. As well as welcoming over 5,000 people on courses every year (course brochure available), it is also an ideal location for conferences, events such as birthdays, weddings, funeral teas and many more. The Centre also provides accommodation for…
Itinerary Distances
From
To
Distance * (metric)
Conwy Valley Railway

(53.28413,-3.80831)

Ogwen Falls

(53.12241,-4.02062)

20.61
Ogwen Falls

(53.12241,-4.02062)

Seren Ventures

(53.08997,-3.80104)

13.6
Seren Ventures

(53.08997,-3.80104)

Plas y Brenin – National Outdoor Centre

(53.10163,-3.91805)

7.14
Plas y Brenin – National Outdoor Centre

(53.10163,-3.91805)

Conwy Valley Railway Museum

(53.09361,-3.7982)

7.26
Conwy Valley Railway Museum

(53.09361,-3.7982)

Go Below Underground Adventures

(53.06572,-3.77634)

3.09
Go Below Underground Adventures

(53.06572,-3.77634)

Swallow Falls

(53.10243,-3.84708)

5.63
Swallow Falls

(53.10243,-3.84708)

Pont y Pair Bridge

(53.0926,-3.80563)

2.68
Pont y Pair Bridge

(53.0926,-3.80563)

St Michael's Old Church

(53.0942,-3.79847)

0.46
St Michael's Old Church

(53.0942,-3.79847)

Gwydyr Forest

(53.09269,-3.79966)

0.17
Gwydyr Forest

(53.09269,-3.79966)

Adventure Parc Snowdonia

(53.19003,-3.84265)

10.09
Adventure Parc Snowdonia

(53.19003,-3.84265)

Adventure Tour Snowdonia *

(53.10173,-3.86582)

8.96
Adventure Tour Snowdonia *

(53.10173,-3.86582)

Zip World Deep Mine Tour

(53.00595,-3.94064)

10.6
Zip World Deep Mine Tour

(53.00595,-3.94064)

Antur Stiniog Bike Park

(53.00418,-3.93907)

0.2
Antur Stiniog Bike Park

(53.00418,-3.93907)

Beics Betws

(53.09101,-3.80208)

11.99
Beics Betws

(53.09101,-3.80208)

Zip World Bounce Below

(53.00595,-3.94064)

11.93
Zip World Bounce Below

(53.00595,-3.94064)

North Wales Active

(53.09285,-3.81056)

11.71
North Wales Active

(53.09285,-3.81056)

Plas Tan y Bwlch

(52.94654,-3.99901)

18.55
Plas Tan y Bwlch

(52.94654,-3.99901)

Tirio Packraft Adventures and Wild living Skills

(53.09249,-3.80218)

18.83
Total Distance *
163.46 miles
Estimated Journey Time
5.26 hours
* Approximate distance by road
Create a personalised itinerary (This will replace all items in your planner)