Itinerary Planner
Products in this Suggested Itinerary
Things to do in Prestatyn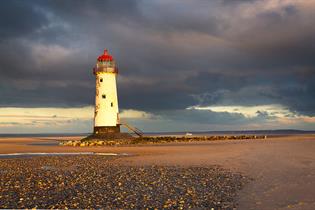 Barkby Beach, Prestatyn is backed by a wide promenade, sand dunes and picnic areas. Dog restrictions apply from May to October on the beach, however dogs are permitted all year to the east of the promenade.
The Roman Baths at Prestatyn were discovered in 1934 by Mr F. Gilbert Smith a local architect and amateur archaeologist. It is believed the bath house was associated with the Roman fort to the north. The bath house is hidden with a housing estate, there is parking for two cars outside the entrance.
As a commemoration of Prestatyn's Roman heritage a large Roman Helmet sits on the hillside. The artwork was designed by the company who made the sets and props for the Wallace and Gromit films. The walk up to the helmet is short but steep in places, however benches are available for the climb to enjoy the view of Prestatyn.
It was during the 8th century when King Offa of Mercia ordered a great dyke to be built, namely Offa's Dyke Path. The dyke stretched from sea to sea and marked the western boundary of Mercia with Wales. It gives its name to a long distance footpath, one of Britain's National Trails, which runs from Sedbury, near Chepstow, to Prestatyn through the varied and little-frequented landscapes of the Welsh Marches.
Talacre is a sandy beach located near Prestatyn and houses a grade 2 listed lighthouse dating back to 1776, which was decommissioned in 1884 and is now a residential property, rising 18 metres out of the sand. The area around the beach and dunes is a Site of special Scientific Interest with rare species including a collection of natterjack roads. Toilets are available a short walk from the beach with the town also close by with cafes and shops.
Create a personalised itinerary (This will replace all items in your planner)
Itinerary Distances
From
To
Distance * (metric)
Barkby Beach

(53.34502,-3.40168)

Nova Prestatyn

(53.34155,-3.41352)

0.79
Nova Prestatyn

(53.34155,-3.41352)

Prestatyn Golf Club

(53.34088,-3.39397)

1.17
Prestatyn Golf Club

(53.34088,-3.39397)

Ffrith Park

(53.33369,-3.43322)

2.46
Total Distance *
4.42 miles
Estimated Journey Time
9 minutes
* Approximate distance by road
Create a personalised itinerary (This will replace all items in your planner)