Itinerary Planner
Products in this Suggested Itinerary
Things to do in Llanfair PG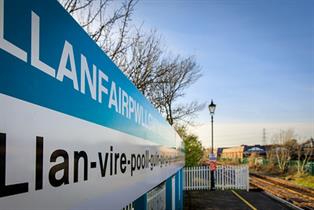 Famous because of its long name, this village is known throughout the world. It's full name is Llanfairpwllgwyngyllgogeryrchwyrndrobwllllantysiliogogogoch which means The Church of St Mary in the hollow of the white hazel near the rapid whirlpool and the church of St Tysilio near a red cave, although it is usually shortened to Llanfairpwll or Llanfair P.G. The station was opened in 1848 and the name combines a number of local place names. It was the longest place name in an English speaking country, however this has been challenged. The station is still open and trains do stop, limited facilities at the station as the station in unmanned.
One of Llanfairpwll's unusual claims to fame is that the Women's Institute movement was founded here in 1915.
Another attraction in Llanfairpwll is the Marquess of Anglesey's Column, a Greek Doric Column dedicated to Henry William Paget, the first Marquess of Anglesey for his important part in the battle of Waterloo where he lost his leg. The monument was erected in 1817. There are 115 to climb to reach the top where panoramic views of North Wales can be enjoyed. The monument is currently closed to the public due to health and safety fears regarding the stair case, however a charity group are currently fundraising for the monument to be re-opened.
Create a personalised itinerary (This will replace all items in your planner)
Product Information
Plas Newydd has everything for a great family day out; spectacular views, extensive gardens and woodland walks. As our major project inside the house continues, see it as you've never seen it before. Open 7 days a week, Mar – end Oct; please see website for opening times.

Bring the family along to visit Seahorses, Octopus, Lobsters and other exciting elusive British marine animals up close. Lose yourself in our moon jellyfish display, or spot the Conger Eels as you enter the Seven Sisters shipwreck or take a seat infront of our largest tank of silvery bass, bream…

Set alongside the beautiful Menai Straits with stunning views of Caernarfon Castle and the Snowdonia mountain range beyond, you won't find horse riding in more involving surroundings.

Our 5 miles of private bridleways will give you a fantastic, safe introduction to riding, and we're sure that more…

Brynsiencyn, LLANFAIRPWLL

Tŷ Halen is home for our hand-harvesting process and 'behind the scenes' tours and tutored salt tasting. Our saltcote also has a contemporary, design-led gift shop.

Famous because of its long name, this village is known throughout the world. It's full name is Llanfairpwllgwyngyllgogeryrchwyrndrobwllllantysiliogogogoch which means The Church of St Mary in the hollow of the white hazel near the rapid whirlpool and the church of St Tysilio near a red cave,…

Another attraction in Llanfairpwll is the Marquess of Anglesey's Column, a Greek Doric Column dedicated to Henry William Paget, the first Marquess of Anglesey for his important part in the battle of Waterloo where he lost his leg. The monument was erected in 1817. There are 115 to climb to reach…
Itinerary Distances
From
To
Distance * (metric)
Plas Newydd Historic House and Gardens

(53.20244,-4.22206)

Anglesey Sea Zoo

(53.16382,-4.27898)

5.16
Anglesey Sea Zoo

(53.16382,-4.27898)

Anglesey Riding Centre

(53.14958,-4.29949)

1.89
Anglesey Riding Centre

(53.14958,-4.29949)

Anglesey Sea Salt Co/Halen Mon

(53.16444,-4.27735)

2
Anglesey Sea Salt Co/Halen Mon

(53.16444,-4.27735)

James Pringle Weavers

(53.22069,-4.20802)

7.01
James Pringle Weavers

(53.22069,-4.20802)

Llanfairpwll Train Station

(53.22088,-4.20937)

0.08
Llanfairpwll Train Station

(53.22088,-4.20937)

Marquess of Anglesey's Column

(53.22082,-4.19677)

0.76
Total Distance *
16.89 miles
Estimated Journey Time
33 minutes
* Approximate distance by road
Create a personalised itinerary (This will replace all items in your planner)