Itinerary Planner
Products in this Suggested Itinerary
Things to do in Conwy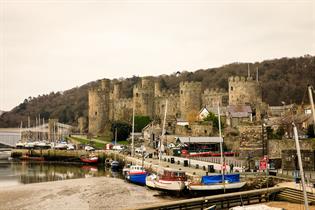 Conwy is a town rich in history dominated by its 13th-century castle built by Edward I. The walled town of Conwy overlooks the estuary of the River Conwy over towards Deganwy. The town is home to one of Wales' largest recreational boating harbours. Along the quayside there is plenty to see with the smallest house and the mussel museum, crabbing off the jetty, boat rides and ghostly goings on or why not walk along the front and indulge in chips or ice cream!
Bodlondeb Country Park is located on the western side of the Conwy Estuary and just outside the castle walls of Conwy Town. The park was the original family home of the Holland family, built in 1742. The house and grounds were transferred to the council in 1937. The parks facilities include, tennis courts, a children's play area, a cricket and football field, allotments, car parking and toilets. There is also Woodland area which is home to a variety of mammals, birds and butterflies.
On top of Conwy Mountain is Castell Caer Seion, an Iron Age hillfort excavated in 1951 with further excavation in 2008. But these did not produce any dating evidence and showed that the fort was occupied from at least the middle of the Iron Age, about 300 BC. Castell Caer Seion comprised a stone walled fort, and remains show this to have been an extensive site, incorporated huts circles and levelled platform houses, and with a citadel outposts. The hill fort site offers fantastic views over Conwy, the estuary, and Llandudno including the Great Orme.
Create a personalised itinerary (This will replace all items in your planner)
Itinerary Distances
From
To
Distance * (metric)
RSPB Conwy

(53.27873,-3.80446)

Sightseeing Cruises Conwy

(53.28207,-3.82818)

1.46
Sightseeing Cruises Conwy

(53.28207,-3.82818)

Conwy Morfa

(53.29036,-3.8594)

2.05
Conwy Morfa

(53.29036,-3.8594)

Conwy Golf Club

(53.2906,-3.84361)

0.95
Conwy Golf Club

(53.2906,-3.84361)

Conwy Mountain

(53.28439,-3.84606)

0.64
Conwy Mountain

(53.28439,-3.84606)

Bodlondeb Country Park

(53.28458,-3.83346)

0.76
Bodlondeb Country Park

(53.28458,-3.83346)

Conwy Town Walls

(53.28259,-3.83006)

0.29
Conwy Town Walls

(53.28259,-3.83006)

City Sightseeing Llandudno & Conwy

(53.32727,-3.83086)

4.48
City Sightseeing Llandudno & Conwy

(53.32727,-3.83086)

Conwy Town Trail

(53.28009,-3.82877)

4.73
Conwy Town Trail

(53.28009,-3.82877)

Adventure Parc Snowdonia

(53.1893,-3.83968)

9.12
Adventure Parc Snowdonia

(53.1893,-3.83968)

Gwinllan Conwy Ltd

(53.29072,-3.77449)

10.89
Gwinllan Conwy Ltd

(53.29072,-3.77449)

Conwy Water Gardens and Dutch Pancake House

(53.23743,-3.85022)

7.01
Conwy Water Gardens and Dutch Pancake House

(53.23743,-3.85022)

Royal Cambrian Academy of Art

(53.28146,-3.83027)

4.57
Total Distance *
46.92 miles
Estimated Journey Time
1.51 hours
* Approximate distance by road
Create a personalised itinerary (This will replace all items in your planner)