Itinerary Planner
Products in this Suggested Itinerary
Things to do in Holywell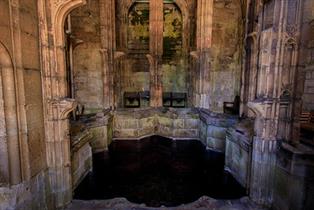 Holywell takes its name from the town's major feature, the world famous St. Winifride's Holy Well; one of the Seven Wonders of Wales. St Winefride's Well is a Grade 1 listed building and it is claimed to be the oldest visited pilgrimage site in Great Britain. The water is said to be healing to miraculous cures. Richard 1 visited the well in 1189 to pray for the success of his crusade. Lady Margaret Beaufort, mother of King Henry 7th built her chapel overlooking the well. There is a visitor centre on site with parking and facilities available on site.
Located in North East Wales and set amid rolling countryside overlooking the estuary of the River Dee, the centre of this traditional Welsh market town has changed over the last few hundred years as its rich variety of fine late Georgian and Victorian period buildings will testify.
The famous North Wales North Wales Pilgrims Way - a walking route of over 130 miles begins at Basingwerk Abbey, Holywell which once served as a hospital to pilgrims during the medieval period. The route takes on the path once taken by pilgrims travelling to Bardsey Island. Along the way the route has been marked out linking ancient churches. The route is a scenic path through woodland, coastal paths, mountains and villages. The final part of the journey is crossing the sea by boat to Bardsey Island.

Create a personalised itinerary (This will replace all items in your planner)
Product Information
Take a stroll around the award winning gardens of Brynford Pet Cemetery and discover a place where beautifully manicured gardents monuments,statues are all decorated to much loved pets.

 

Talacre is a sandy beach on the North Wales coast.
Itinerary Distances
From
To
Distance * (metric)
Holywell Pet Cemetery

(53.26176,-3.23096)

North Wales Pilgrims Way

(52.96746,-3.17194)

29.7
Total Distance *
29.7 miles
Estimated Journey Time
57 minutes
* Approximate distance by road
Create a personalised itinerary (This will replace all items in your planner)