Itinerary Planner
Products in this Suggested Itinerary
Things to do in Ruthin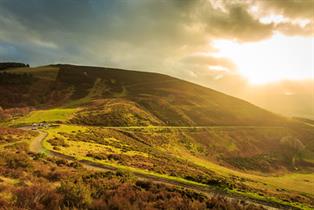 Perched on top of a hill, all roads into Ruthin seem to lead to St Peter's Square in the centre. Visitors come here to admire the mix of architectural styles, the excellent specialist shops, and good eating places.St Peter's Square has more listed buildings than any other market town in North Wales. Home to the tower erected in 1885. All roads in the Vale of Clwyd lead uphill to St Peter's Square. Car parking is available at the bottom of the town hill with plenty of amenities nearby.
Moel Famau is one of the highest hills within the Clwydian range. It has been classed as an area of outstanding natural beauty since 1985. The hill is also surrounded by many well preserved iron age hill forts. There are many well preserved paths that begin at the car park. On a clear day, you can sometimes see the Blackpool tower from the summit. The impressive remains of The Jubilee Tower are found at the summit of Moel Famau and offer you another few feet in height to get a better view. These remains are at the highest point in the park at 1818ft (554m) and afford fantastic views.
Foel Fenlli is the second highest peak in the Clwydian Range. The hillfort at the summit was built during the Iron Age. There is a carpark with footpaths leading directly to the summit.
On the outskirts of Ruthin is the famous St Dyfnog Church, Llanrhaeadr-yng-Nghinmeirch, a Grade I listed building dating from the 13th century. St Dyfnog's church is named after the 6th century saint who lived by a nearby waterfall. The church is most famous for its stained glass Tree of Jesse Window which dates from 1533, Llanrhaeadr. The window depicts the family tree of Christ and it is believed to be one of the finest medieval windows in Wales and today is one of the best preserved windows. St Dyfnog's Holy well is also nearby, though it is a very simple site today, the well was said to have been lined with marble in the 18th century, with statues arranged around the outside, and there were changing rooms for pilgrims so they could bathe in the healing waters. The well became known for its healing powers during the middle ages and became a site of pilgrimage.

Create a personalised itinerary (This will replace all items in your planner)
Product Information
15th Century Timber Hall House and newly restored walled gardens dating for Medieval times.

Features such as the rose pergola, nuttery, and flowery meads demonstrate the gardens; histrois uses - for medicine, cooking and sensory pleasure. The orchard is host to traditional varieties of apple and…

Explore Ruthin Gaol - one of North Wales' most fascinating buildings. From 1654 to 1916 thousands of prisoners - men, women and children, innocent and guilty passed through its gates. Now it's your turn!

Moel Famau is one of the highest hills within the Clwydian range. It has been classed as an area of outstanding natural beauty since 1985. The hill is also surrounded by many well preserved iron age hill forts. There are many well preserved paths that begin at the car park. On a clear day, you can…

Foel Fenlli is the second highest peak in the Clwydian Range. The hillfort at the summit was built during the Iron Age. There is a carpark with footpaths leading directly to the summit. 

On the outskirts of Ruthin is the famous St Dyfnog Church, Llanrhaeadr-yng-Nghinmeirch, a Grade I listed building dating from the 13th century.  St Dyfnog's church is named after the 6th century saint who lived by a nearby waterfall.  The church is most famous for its stained glass Tree of Jesse…

Perched on top of a hill, all roads into Ruthin seem to lead to St Peter's Square in the centre. Visitors come here to admire the mix of architectural styles, the excellent specialist shops, and good eating places.St Peter's Square has more listed buildings than any other market town in North Wales…

St Dyfnog's Holy well is also nearby, though it is a very simple site today, the well was said to have been lined with marble in the 18th century, with statues arranged around the outside, and there were changing rooms for pilgrims so they could bathe in the healing waters. The well became known…
Itinerary Distances
From
To
Distance * (metric)
Nantclwyd y Dre Gardens

(53.11257,-3.31037)

Ruthin Gaol

(53.11343,-3.31338)

0.2
Ruthin Gaol

(53.11343,-3.31338)

Dibleys Nurseries

(53.03538,-3.29758)

7.88
Dibleys Nurseries

(53.03538,-3.29758)

Moel Famau

(53.15531,-3.25825)

12.25
Moel Famau

(53.15531,-3.25825)

Foel Fenlli

(53.13657,-3.25678)

1.88
Foel Fenlli

(53.13657,-3.25678)

St Dyfnog Church

(53.15955,-3.37492)

7.46
St Dyfnog Church

(53.15955,-3.37492)

St Peter's Square

(53.11485,-3.31066)

5.91
St Peter's Square

(53.11485,-3.31066)

St Dyfnog's Holy well

(53.15917,-3.37754)

5.99
Total Distance *
41.57 miles
Estimated Journey Time
1.34 hours
* Approximate distance by road
Create a personalised itinerary (This will replace all items in your planner)