Itinerary Planner
Products in this Suggested Itinerary
Things to do in Holyhead & Trearddur Bay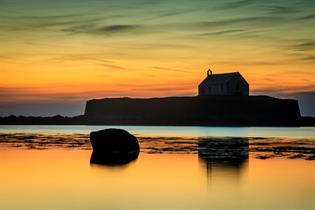 At first glance Holyhead, the largest town on Anglesey, can be summed up as a busy ferry port but there is more to the town than that. It has a range of shops, eating places, arts centre and a wealth of historic sites. Outside the town itself coastal cliffs and award winning beaches are an added attraction.
One of its attractions is St Cybi's Church, a grade 1 listed church built between the 13th and 16th centuries within the walls of the ancient roman fort Caer Gybi. The church has an interesting history having be raided by Viking invaders in the tenth century and then attacked by Henry IV in 1405.
On the outskirts of Holyhead is the most recognizable church on Anglesey, St Cwyfan's Church - The Church in the Sea. The 12th century medieval church is perched on a small island called Cribinau. Originally it stood on a peninsula between two bays, however over time the sea has slowly eroded the coast. A causeway was built to allow parishioners to get to and from the island. There is parking available. 2 miles South of Holyhead on the West Coast of Holy Island is the resort of Trearddur Bay with its award winning sheltered, sandy beaches popular with families and water sport enthusiasts. 2 miles further South of Trearddur Bay is Rhoscolyn, best known for its large, attractive beach.
Porth Dafarch is a sandy cove situated on the coast road between Treaddur Bay and Holyhead. A great area for snorkelling and is best known for its scuba diving.
South Stack is one of Anglesey's must-see landscapes, located on Holy Island, and is Anglesey'e most westerly point, lying some 3 milest to the west of Holyhead. The lighthouse was built in 1809 to mark a tiny island off Anglesey. The lighthouse is reached by a descent of 400 steps down a steep cliff. The lighthouse is open at certain times through the year, admission prices apply for entry into the lighthouse. There is free parking onsite as well as a RSPB visitor centre.
Part of the Anglesey coastal path and National Cycle route, there is a 200 acre Penrhos Coastal Park, where you can explore the beach and the woodland with scenic picnic areas and also dog friendly.

Create a personalised itinerary (This will replace all items in your planner)
Product Information
Enjoy a close-up view onto a wonderful cliff-side nesting colony, with binoculars and telescopes provided.

South Stack is one of Anglesey's must-see landscapes, located on Holy Island, and is Anglesey'e most westerly point, lying some 3 milest to the west of Holyhead.  The lighthouse was built in 1809 to mark a tiny island off Anglesey.  The lighthouse is reached by a descent of 400 steps down a steep…

One of its attractions is St Cybi's Church, a grade 1 listed church built between the 13th and 16th centuries within the walls of the ancient roman fort Caer Gybi. The church has an interesting history having be raided by Viking invaders in the tenth century and then attacked by Henry IV in 1405.

On the outskirts of Holyhead is the most recognizable church on Anglesey, St Cwyfan's Church - The Church in the Sea.  The 12th century medieval church is perched on a small island called Cribinau. Originally it stood on a peninsula between two bays, however over time the sea has slowly eroded the…

Part of the Anglesey coastal path and National Cycle route, there is a 200 acre Penrhos Coastal Park, where you can explore the beach and the woodland with scenic picnic areas and also dog friendly.

Porth Dafarch is a sandy cove situated on the coast road between Treaddur Bay and Holyhead. A great area for snorkelling and is best known for its scuba diving.

One of the most sheltered beaches on Anglesey, Borth Wen is a popular beach located on Holyhead's southern shore. Also known as Rhoscolyn beach,
Itinerary Distances
From
To
Distance * (metric)
RSPB South Stack Cliffs Reserve

(53.30261,-4.6851)

South Stack

(53.18592,-4.48725)

16.66
South Stack

(53.18592,-4.48725)

St Cybi's Church

(53.30492,-4.69289)

17.15
St Cybi's Church

(53.30492,-4.69289)

St Cwyfan's Church

(53.1863,-4.48745)

17.12
St Cwyfan's Church

(53.1863,-4.48745)

Penrhos Coastal Path

(53.29464,-4.58958)

12.46
Penrhos Coastal Path

(53.29464,-4.58958)

Porth Dafarch

(53.28633,-4.65175)

3.82
Porth Dafarch

(53.28633,-4.65175)

Borth Wen Beach

(53.24171,-4.59284)

5.7
Total Distance *
72.89 miles
Estimated Journey Time
2.35 hours
* Approximate distance by road
Create a personalised itinerary (This will replace all items in your planner)