Theatr Gen Creu ar Daith: Pwy 'Sgrifennodd Honna?

Pontio
Ffordd Deiniol
Bangor
Gwynedd
LL57 2TQ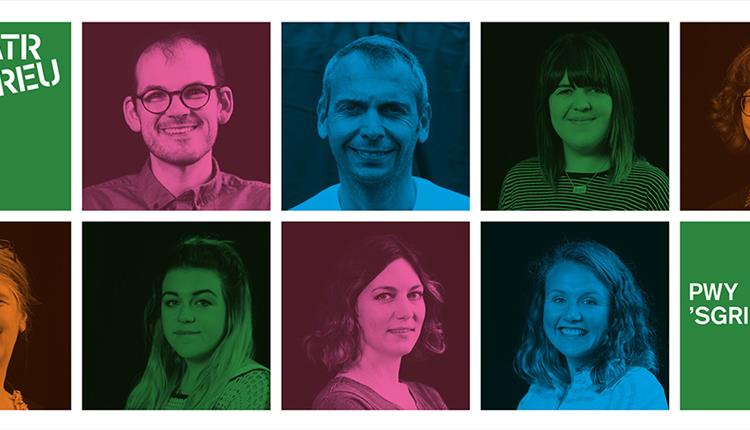 About
Darlleniadau o ddramâu gan y dramodwyr lleol Sian Northey ac Elin Gwyn.
Dyma benllanw cynllun Grŵp Dramodwyr Newydd Theatr Genedlaethol Cymru 2019, gyda chyfres o ddarlleniadau o ddramâu newydd gan y don nesaf o ddramodwyr Cymraeg. Mae hwn yn gyfle unigryw i weld canlyniad 10 mis o waith creu a datblygu, dan arweiniad Theatr Genedlaethol Cymru, gan rai o'r dramodwyr Cymraeg newydd mwyaf cyffrous o bob cwr o Gymru.
Ym mhob digwyddiad ceir darlleniad o ddramâu newydd gan ddau ddramodydd, gyda sgwrs i ddilyn gyda'r dramodwyr, y cast a'r cyfarwyddwyr.
I gael manylion gweddill y daith, a gwybodaeth bellach am y dramâu, ynghyd â gwybodaeth am y cast a'r cyfarwyddwyr, ewch i theatr.cymru
Mae hwn yn gyflwyniad Cymraeg ei iaith.

Rehearsed readings of plays by Pay what you decide local playwrights Sian Northey and Elin Gwyn. Theatr Genedlaethol Cymru's 2019 New Playwrights' Group project culminates in a series of rehearsed readings across Wales of new plays by the new wave of Welsh-language playwrights.
This is an opportunity to enjoy the fruits of 10 months of writing and development, under the guidance of Theatr
Genedlaethol Cymru, by some of Wales's most exciting new Welsh-language playwrights.
Each event will include readings of new plays by two playwrights, followed by a conversation with the playwrights, cast and directors.
For details regarding the rest of the tour, and further information about the plays, including information about the cast and directors, please visit theatr.cymru
This is a Welsh-language presentation.
Guide Prices
Talwch faint a fynnwch Pay what you decide