Shakespeares Globe ar Daith | On Tour

Pontio
Ffordd Deiniol
Bangor
Gwynedd
LL57 2TQ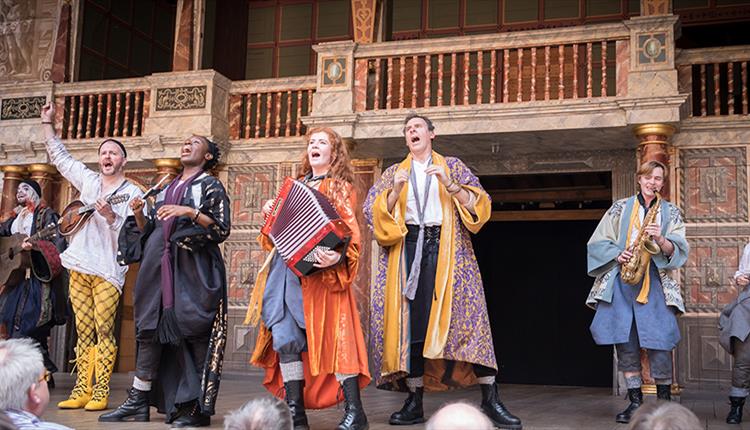 About
Bydd Globe Shakespeare yn dychwelyd i Pontio i gyflwyno tair drama sy'n ymdrin â themâu lloches ac ymfudo. Gan chwarae sawl cymeriad ym mhob un o'r tair drama, bydd y cwmni'n cyflwyno'r straeon oesol hyn am rai sydd wedi croesi moroedd a cholli eu teuluoedd, ac sy'n darganfod beth mae perthyn yn ei wir olygu iddynt.
Sut brofiad ydi mynd i'r theatr a pheidio â gwybod beth fyddwch yn ei weld? Cymerwch ran yn arbrawf theatraidd democrataidd Globe Shakespeare i gael gwybod! Bydd i fyny i chi bleidleisio dros ba un o'r tair drama sydd ar gael yr hoffech ei gweld. Mae'r rheolau'n syml: y gweiddi uchaf sy'n ennill, ac mae'r actio'n dechrau ar unwaith.
Shakespeare's Globe return to Pontio and present a trio of plays exploring the themes of refuge and displacement. Taking on multiple roles across all three plays, the company will unravel these timeless tales of those who have crossed seas, lost their families, and are finding out what belonging truly means to them.
What's it like to go to the theatre and not know what you're going to see? Take part in Shakespeare's Globe's democratic theatrical experiment to find out! It will be up to you to vote for which of the three plays on offer you want to see. The rules are simple: the loudest cheer wins, and the action starts straight away!
Guide Prices
£7.50 yn sefyll / £10.50-£18.50 yn eistedd / £10.50 dan 18 oed £7.50 standing / £10.50-18.50 seated / £10.50 under 18