N-Ex-T-Double Bill: Kamura Obscura & Two Dogs

Hermon Chapel Arts Centre, Chapel Street
Chapel Street
Oswestry
Shropshire
SY11 1LF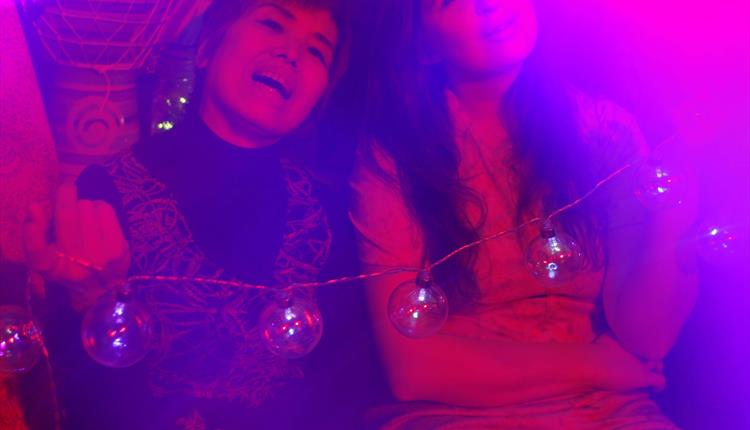 About
The Hermon's N-Ex-T (= New Experimental Tones) concerts series invites its audience yet again to be daring and experimental in their choice of music for an evening out in our beautiful chapel space! In this series of unusual and out of the box musical experiences, we invite some of the best performers on the scene to explore the adventurous nature of live performance through the mediums of composition, improvisation, motion and sound manipulation whilst embracing the abstract and the avant-garde. Another night for the most curious and open-minded audiences who wish to venture with us into unchartered audio-visual territory and visit the numerous birthplaces of artistic originality!
Having drawn yet again inspiration from the underground scene and progressive music publications such as The Wire we proudly present this month the two experimental duos KAMURA OBSCURA & TWO DOGS!
KAMURA OBSCURA:
"Musical intimacy and mystery…., are we in a hotel bar in 1930s downtown Japan? Or are those harps and strings from Wong Kar-Wai's heady 2046-style fantasies?" - Clive Bell, The Wire
Kamura Obscura are Atsuko Kamura (vocal, synth, fx) and Natalie Mason (strings, piano, accordion). Their adventurous, multi-faceted compositions, improvisations and vocal experimentations are influenced by enka (a form of Japanese speech song), chanson and Japanese punk. The result is highly original multi-instrumental music.
Atsuko Kamura is one of Tokyo's most emotive and inventive singers. As part of the women's liberation movement she gave birth to the first Japanese feminist punk band Mizutama Shobodan (= Polkadot Fire Brigade), Japanese agitprop feminist pioneers. Touring Japan they also released two albums, the second of which Manten ni Akai Hanabira (=Red Petals Full in the Sky) was produced by Fred Frith, founder of the avant-rock band Henry Cow in the late 60s. Atsuko toured with an impressive array of bands, amongst them UK-based Japanese pop group Frank Chickens, appeared in Kazuko Hohki's Karaoke Klub on Channel 4 TV hosting Spike Milligan and surviving Jimmy Saville. As a solo improvising vocalist Atsuko has performed with respected improvisers such as Lol Coxhill, Eddie Prévost, Clive Bell, Sylvia Hallett and Charles Haywood.
Together with classically-trained composer and multi-instrumentalist Natalie Mason from Birmingham, the duo Kamura Obscura is very much at home in the field of improvised, yet well-structured music. With experience of living in South Africa, Natalie writes surreal songs characterized by intricate instrumentals. She is also leader of an innovative music project Multicultural Music Making and organizes live concerts of experimental music as part of the Club Integral Midlands Branch in Digbeth, Birmingham.
More about Kamura Obscura:
https://www.kamuraobscura.com/
https://www.kamuraobscura.com/press
TWO DOGS:
Two Dogs are Sam Owen and Max Simpson, both well-known as multi-instrumentalists in the experimental-pop band Pram, founded in the late 80s.
Two Dogs' music occupies the darker, more haunted and fragile end of Pram's musical spectrum with music boxes, violin, flute, glockenspiel, toy accordion and ethereal vocals setting the mood. The duo makes nods to Hammer Horror, public information films, 1970s children's television and Eastern European surrealist cinema. Their live performances marry unsettling monochrome projections with loop pedals, acoustic experimentation, sampled sounds and vintage electronics of Omnichord and car-boot Casios.
Guide Prices
Adult £10
Early Bird £8
16 & Under FREE
Opening Times
Season

(6 Mar 2020)

Day
Times
Friday

20:00

- 23:00