#MoveAMarathonForEthan

St Asaph Leisure Centre
Upper Denbigh Road
St Asaph
Denbighshire
LL17 0RP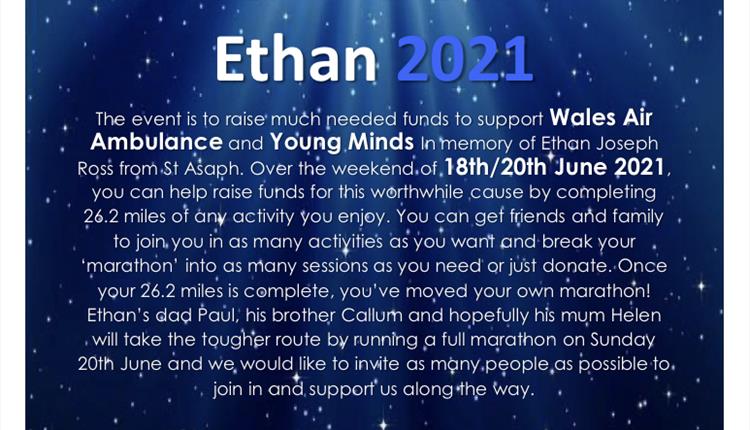 About
#MoveAMarathonforEthan We're raising £20,000 to support the following charities Wales Air Ambulance and YoungMinds In memory of our beloved son Ethan Joseph Ross

DONATE https://www.justgiving.com/crowdfunding/moveamarathonforethan?utm_term=gGKMZ6ek9

BUY RAFFLE TICKETS https://paypal.me/pools/c/8xT4PzFJCr

✏️ SIGN UP https://paypal.me/pools/c/8wYY4Au5ae
EMAIL moveamarathonforethan@outlook.com
TO REGISTER AND GET YOUR SPONSOR FORM

Our Son Ethan Ross was only 17 years old when he tragically lost his life following a collision on the A55 near St Asaph, Denbighshire in North Wales on September 12th 2020, Ethan was flown to Stoke Hospital by Wales Air Ambulance but devastatingly he passed away 2 days later on September 14th 2020. Along with our family, friends we are encouraging the public to 'move a marathon for Ethan' in his memory.

Ethan was a hugely popular, and well respected young man, who worked part time as a waiter in Bodelwyddan Castle Hotel, and was also a member of the Denbigh Town FC Development Squad and a massive Chelsea FC supporter ⚽️. He was "selfless, kind, caring, determined, quiet and gifted with huge competitive nature. Ethan was studying Maths and Physics A Levels at Denbigh High School and hoping to go on to Bristol University to study Aerospace Engineering. Ethan had great aspirations and desires. He wanted to travel the world. Ethan was so organised and had his life mapped out. Ethan loved to sing and would bellow out the Greatest showman - 'Never Enough' at the top of his voice. Ethan loved science and space and had a huge passion about stars and the universe. The world will be an emptier palace now Ethan is not in it. Ethan had wrote the following for his personal statement for University, which just sums Ethan up to a tee - As a young man fascinated with the world around me, I have found myself always drawn to looking up to the sky. I want my life to have purpose and benefit mankind in some way. He has certainly done this giving so many a gift of life with his organ donations. We must now carry on his legacy...

Over the weekend of 18th/20th June 2021, you can help raise funds for this worthwhile cause by completing 26.2 miles of any activity you enjoy. You can get friends and family to join you in as many activities as you want and break your 'marathon' into as many sessions as you need. Once your 26.2 miles is complete, you've moved your own marathon! Ethan's dad Paul, his brother Callum and hopefully myself will take the tougher route by running a full marathon on Sunday 20th June and we would like to invite as many people as possible to join in and support us along the way.

Planning for the event is well underway, with a number of activities already lined up. On Friday 18th June 2021 a number of schools from Llangollen – Denbigh – St. Asaph – Prestatyn will also be taking part, and holding a fundraising day in their school. A logo in Ethan's memory has been designed by his girlfriend Mya, and a webpage has been created as a hub for the event. https://denbighshireleisure.co.uk/moveamarathonforethan

We would love as many people as possible to get involved and Move a Marathon in memory of our beloved son Ethan. We would like to thank Denbighshire Leisure Ltd for offering to support the event and for being our official partner. We have chosen the Welsh Air Ambulance and Young Minds, two charities that are very important to our family. We would like to thank everyone who has been in touch already, let's make this event as ginormous as Ethan's heart and make him as proud as he did us."
Opening Times
Season
(18 June 2021 - 20 June 2021)