Make a Windsor chair using traditional green wood working techniques

Wernog Wood
Llanbedr DC
Wernog\, Llanbedr DC\, Ruthin. LL15 1YE
Ruthin
Denbighshire
LL15 1YE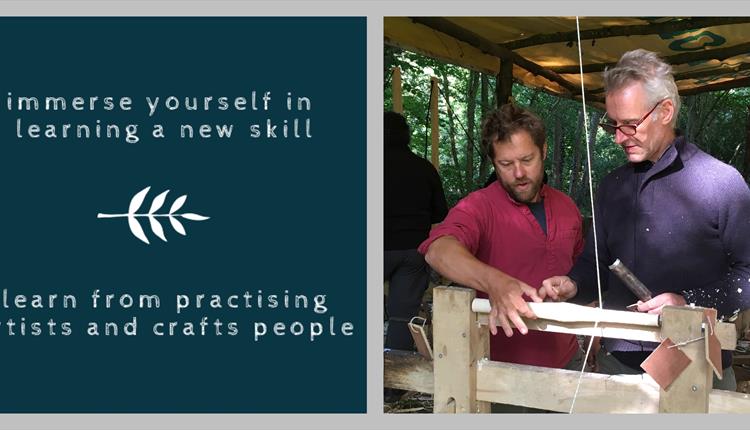 About
MAKE A WINDSOR CHAIR USING TRADITIONAL GREEN WOOD WORKING TECHNIQUES

A change of pace, fresh air, breath taking scenery and a beautiful chair, handmade by you…
​
Taught by Ben Willis www.benwillis-woodcraft.co.uk. ​Suitable for beginners to experienced greenwood workers. This course is aimed at adults, aged 18yrs +

Accomplished chair maker, Ben Willis will take you through every step of your chair making process, from selecting and felling a tree, through to crafting your final piece. Using traditional green woodworking techniques and hand tools only, you will craft your Windsor chair from unseasoned ash, freshly cut from the tree.

You will learn to cleave your log with a froe & shape each component of your chair with a drawknife, clamped by the shave horse you are sitting on. There will be opportunity to try turning on a foot-powered pole lathe. Then, using methods such as steam bending & sculpting with an adze, you'll fashion other parts of your chair such as the comb & seat until each curve is just how you like it… all made within in the woods from which your chair originated.

WHAT'S INCLUDED IN THE COURSE COST?

£485 - Tuition and basic materials (+£25-£40 for seating materials)

We provide a simple honest lunch such as bread, cheese and soup which are included int he course cost.

£8 per night - Students can pitch their tent in Wernog wildflower meadow and soak up the alfresco evening ambience.

Breakfast & evening meals - not included in costs. Evening feasts are down to the students themselves, but we can shop for you with a kitty of approximately £6 each per day for ingredients! With use of an outdoor kitchen, pizza oven, fire pit and fresh spring water, the formula for evening meals is to team up 'chefs', two at a time to cook for the rest of the group…. the bar is raised night after night and the food just gets better and better.

ABOUT WERNOG WOOD
We offer traditional & contemporary craft courses in an idyllic woodland setting. Courses are instructed by practicing artists and crafts people and tailored for complete beginners as well as those with experience.
​
Located in an Area of Outstanding Natural Beauty, Wernog Wood is a hidden gem, right in the heart of the Clwydian Range, north east Wales. Our beautiful oak and ash woods are teaming with birds and wildlife, bluebells and wild garlic and an invigorating stream.

Just 200m from Offa's Dyke and footpaths in every direction, you can enjoy evening walks in the heather covered hills, down into Ruthin, or along Offa's Dyke itself to a variety of rural pubs.

Courses planned for 2019 include greenwood chair making, timber frame building and jewellery. Based on popular demand, future courses may include painting, photography, wood carving, ceramics, upholstery, woodland crafts and many more.