Jacob & Drinkwater: This Old River Tour

Hermon Chapel Arts Centre, Chapel Street
Chapel Street
Oswestry
Shropshire
SY11 1LF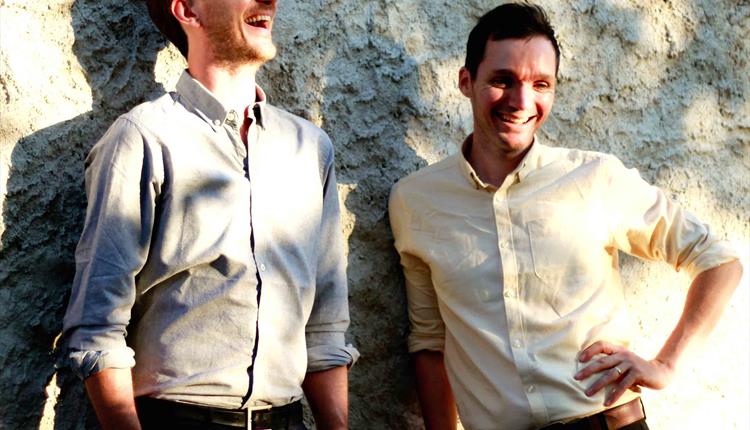 About
A truly magnificent start to The Hermon's spring season is granted with the amazing Devon-based Indie-Folk-Pop duo Jacob & Drinkwater, hailed by BBC 6s Chris Hawkins as Stand out new folk... superb.. excellent.". Tobias Ben Jacob is an exquisite song writer whose vocals soar above finger style guitar, underpinned by Lukas Drinkwaters nimble, percussive double bass and vocal harmonies. Their live show is full of musical brilliance and improvisation combined with wit and charming brotherly camaraderie, bringing to mind comparisons with the virtuosic pairing of John Martyn and Danny Thompson. After many years of touring together and refining their craft Jacob & Drinkwater have released their first full studio album This Old River in 2019 to much critical acclaim. Touring their dynamic and emotionally charged music to numerous sold-out venues throughout 2019, they are now back on the road - catch them while you can!

One of our best artists. - BBC Devon Introducing
Really stop you in your tracks. - Fresh On The Net
Inventive and thrilling. - Rock n Reel, Radio 2
Intense and spellbinding. - Folk Radio UK

TOBIAS' AND LUKAS' ORIGINAL APPROACH TO TOURING:
Lauded by their musical peers and the press as one of the most accomplished acts touring the circuit today, Jacob & Drinkwater stand out from the crowd by accomplished musicianship paired with an original approach to presenting their music. A clear affinity to the precious medium of water - yes, H2O - appears to run as a theme through their work since autumn 2018 when the two musicians embarked on their Waters of England tour, combining live touring with open water swimming in locations across the UK and documenting their adventures via their social media pages! Gone are the days of post-gig booze ups - the duo are teetotal and promote a healthy, clean living touring regime to support well-being and mental health in the musical profession - BRAVO!!!
Their most recent 2019 tour continues the worship of nature and its valuable source of life-giving liquid promoting their first full studio album appropriately named This Old River. The duos hospitality rider reads Please provide means to refill water bottles - no bottled water! - The Hermon will comply with the greatest pleasure!!

MORE ABOUT TOBIAS BEN JACOB:
Singer-songwriter Tobias Ben Jacob first received wider acclaim as part of The Roots Union with BBC Folk Award winners Phillip Henry & Hannah Martin (Edgelarks) including playing live for the BBC at Maida Vale Studios and recording in Nashville, Tennessee. He has toured extensively and had several releases including the 2017 album A Polyphonic Life. Tobias songs have been featured in the documentary film Beating The Bomb and in the feature film Tomorrow, a Martin Scorsese production.

MORE ABOUT LUKAS DRINKWATER:
Lukas Drinkwater is rightly referred to as one of busiest musicians in the UK. In demand as a producer, performer and session player in the worlds of folk and jazz he has featured on many acclaimed albums. Recently hes been touring with AMA UK Artist of the Year Emily Barker, Albert Jones, Ange Hardy, and the Peoples String Foundation. He has also worked with Seth Lakeman, 3 Daft Monkeys, Jim Causley, Lack of Afro, Lucy Ward, Tankus, The Henge, Sam Kelly, The Little Unsaid and many more.

MORE ABOUT JACOB & DRINKWATER: www.jacobanddrinkwater.com

EARLY BIRD TICKETS @ £11 available now!!
Guide Prices
Adult £14
ADV £11
Child £5
Opening Times
Season

(1 Mar 2020)

Day
Times
Sunday

18:30

- 22:00