Italian Baking Masterclass

Tea Rooms at the Pet Cemetery
Holywell Pet Cemetery
Brynford
Holywell
Flintshire
CH8 8AD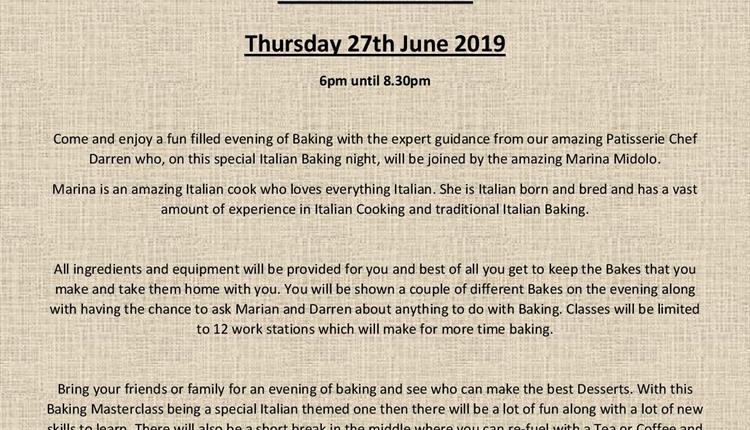 About
Come and enjoy a fun filled evening of Baking with the expert guidance from our amazing Patisserie Chef Darren who, on this special Italian Baking night, will be joined by the amazing Marina Midolo.
Marina is an amazing Italian cook who loves everything Italian. She is Italian born and bred and has a vast amount of experience in Italian Cooking and traditional Italian Baking.

All ingredients and equipment will be provided for you and best of all you get to keep the Bakes that you make and take them home with you. You will be shown a couple of different Bakes on the evening along with having the chance to ask Marian and Darren about anything to do with Baking. Classes will be limited to 12 work stations which will make for more time baking.

Bring your friends or family for an evening of baking and see who can make the best Desserts. With this Baking Masterclass being a special Italian themed one then there will be a lot of fun along with a lot of new skills to learn. There will also be a short break in the middle where you can re-fuel with a Tea or Coffee and have a quick Q&A with Marina and Darren.

Tickets will include all the Equipment and Ingredients you will need to succeed. Tickets are for one work station with everything you need to make the bakes. You can have up to 2 people working at each station. Each station will complete the bakes and get to take them home with them or even eat them at the end of the evening.
Guide Prices
£25 per ticket