Cwmwl Tystion/Witness

Pontio
Ffordd Deiniol
Bangor
Gwynedd
LL57 2TQ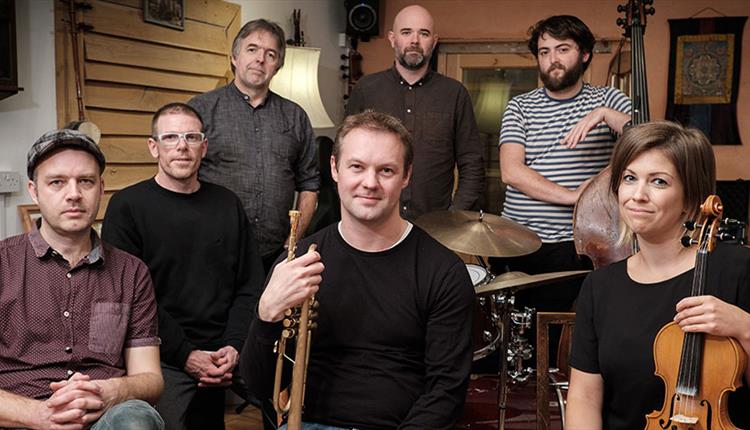 About
Tomos Williams trwmped
Huw Warren piano
Rhodri Davies telyn, electroneg
Francesca Simmons ffidil, llif
Huw V Williams bas
Mark O'Connor drymiau
Simon Proffitt delweddau byw
Cwmwl Tystion / Witness - Mae'r trwmpedwr, Tomos Williams, wedi casglu ynghyd gast o gerddorion gwych o Gymru i berfformio gwaith newydd sy'n adlewyrchu'r cyfnod eithriadol rydym yn byw ynddo. Bydd y band yn perfformio cyfres newydd ei chyfansoddi sy'n cynnwys elfennau o jazz, yr avant-garde, gwaith byrfyfyr a cherddoriaeth werin Gymreig. Daw'r enw Cwmwl Tystion o gerdd gan y bardd mawr o Gymru, Waldo Williams, ac mae'r gerddoriaeth 'yn tystio' i'r amserau cymhleth ac anodd hyn. Hwn fydd y tro cyntaf i Huw Warren (Quercus) a Rhodri Davies (Hen Ogledd), arweinwyr yn eu maes a cherddorion o fri rhyngwladol, berfformio gyda'i gilydd, tra bo Mark O'Connor, Huw V Williams a Francesca Simmons i gyd yn dod â chyfraniadau unigryw i'r project. Bydd Simon Proffitt hefyd yn cyfrannu at y perfformiadau gyda delweddau byw, gan ryngweithio â'r gerddoriaeth mewn amser real.

Tomos Williams trumpet
Huw Warren piano
Rhodri Davies harp, electronics
Francesca Simmons violin, saw
Huw V Williams bass
Mark O'Connor drums
Simon Proffitt live visuals
Cwmwl Tystion / Witness - Trumpeter Tomos Williams has assembled a cast of brilliant Welsh musicians to perform a new work which reflects on the extraordinary times that we live in. The band will perform a newly composed Suite incorporating elements of jazz, the avantgarde, improvisation and Welsh folk music. The name Cwmwl Tystion is derived from a poem by the great Welsh poet Waldo Williams - the music 'bares witness' to these complex and difficult times. This will be the first time Huw Warren (Quercus) and Rhodri Davies (Hen Ogledd), both leaders in their field and musicians of international reputation, perform together, while Mark O'Connor, Huw V Williams and Francesca Simmons all bring unique contributions to the project. Simon Proffitt will also be accompanying the performances with live visuals, interacting with the music in real time.
Guide Prices
£14/ £12
(Tocyn bargen gynnar ar gael £12 / £10 cyn 31 Mai) £14/£12
(Early bird ticket available £12/£10 before 31st May)