A Celebratory Concert

Pontio
Deiniol Road
Bangor
Gwynedd
LL57 2TQ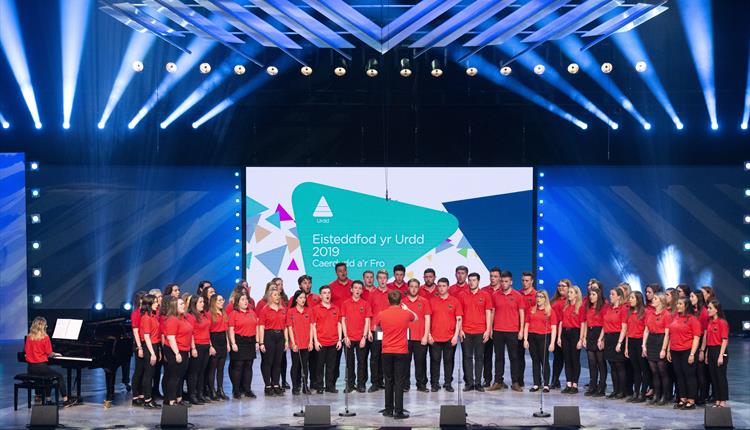 About
A Celebratory Concert
Presenter...Anni Llŷn
CÔR AELWYD JMJ
CÔR SEIRIOL
CÔR Y BRYTHONIAID
Solists: Gwen Elin a Cai Fôn
 

Join us for an evening of vocal music guaranteed to give you goosebumps!

There's no denying the success of Aelwyd JMJ at Eisteddfod yr Urdd in Cardiff this year. Aelwyd Urdd JMJ, the Welsh language halls of residence at Bangor University, had an Eisteddfod to remember as they won medals in six vocal competitions: the vocal ensemble,  the cerdd dant choir, the women's group, the male group and the choir up to 40 in number and the choir over 40 in number – they swept the board!

Tonight you can hear them all back on home turf at Bangor University's Pontio.

Joining them will be two well known local choirs that have won numerous prizes themselves over the years.

We welcome Côr Seiriol, led by Gwennant Pyrs, a choir that has won the  main prize at the Gwyl Gerdd Dant festival more than ten times. Joining them will be Côr Meibion y Brythoniaid from the Blaenau Ffestiniog area, a choir that won the main prize recently at the Mrs Sutherland festival in Huddersfield and led by John Eifion. Both choirs come together to create Llechan Lân, who are sure to raise the roof in Theatr Bryn Terfel!

With the Bryn Terfel Scholarship competition on the horizon, we're also delighted to invite a former Bangor University student and former winner of the Prize, Gwen Elin and one of this year's competitiors Cai Fôn, to the stage. Cai is currently in his second year studying Music and Welsh at Bangor University and will head down to Barry to compete in October. Best of luck to him!

A true feast of song awaits you…

CÔR AELWYD JMJ
CÔR SEIRIOL
CÔR Y BRYTHONIAID
Cyflwynydd ... Anni Llŷn
Unawdwyr: Gwen Elin a Cai Fôn
  
Ymunwch gyda ni am noson o gerddoriaeth leisiol i godi'r croen gwydd!

Does dim amau llwyddiant Aelwyd JMJ yn Eisteddfod yr Urdd Caerdydd yn 2019. Fe gafodd Aelwyd Urdd JMJ, sef aelwyd neuadd Gymraeg Prifysgol Bangor, Eisteddfod yr Urdd i'w chofio eleni gan iddynt ennill medal mewn chwe chystadleuaeth lleisiol: yr ensemble lleisiol, y côr cerdd-dant, y parti merched, y parti bechgyn, y côr hyd at 40 a'r côr dros 40 mewn nifer – y gamp lawn!

Heno fe gewch chi'r cyfle I'w clywed nhw gyd.

Yn ymuno gyda nhw bydd corau lleol adnabyddus, sydd wedi ennill gwobrau lu ei hunain dros y bynyddoedd.

Croesawn Gôr Seiriol dan arweiniad Gwennant Pyrs, côr sydd wedi ennill prif wobr yr Wyl Gerdd dant dros 10 o weithiau i gyd. Yn ymuno a nhw mae Côr Meibion y Brythoniaid o ardal Blaenau Ffestiniog, côr ennillodd brif wobrau corawl Gwyl Mrs Sutherland yn Huddersfield ym mis Chwefror eleni dan arweiniad John Eifion. Daw'r ddau gôr at ei gilydd i greu Llechan Lân sy'n siwr o godi'r to yn Theatr Bryn Terfel!

Gyda Chystadleuaeth Ysgoloriaeth Bryn Terfel 2019 ar y gorwel, mae'n briodol iawn ein bod hefyd yn cynnig llwyfan i gynfyfyrwraig o Fangor a chyn enillydd y Wobr, Gwen Elin ac un o  darpar-ymgeiswyr eleni -Cai Fôn, sydd ar ei ail flwyddyn yn astudio Cerdd a Chymraeg ym Mhrifysgol Bangor ac a fydd yn mynd lawr am y Barri i gystadlu ym mis Hydref. Pob lwc iddo!
 
Mae gwledd o ganu a dathlu yn eich disgwyl….