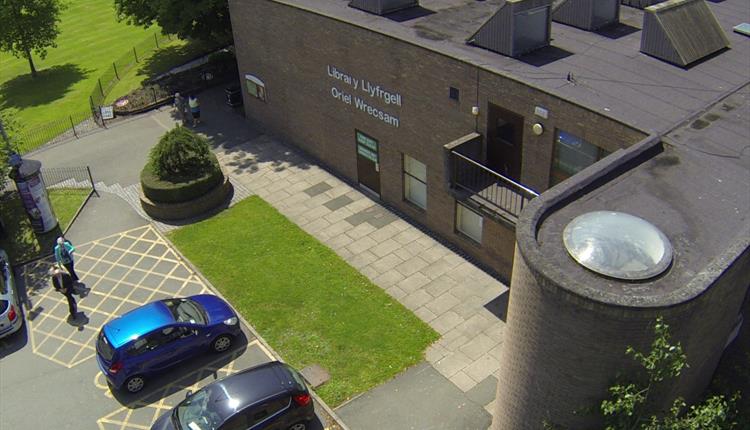 About
Oriel Wrecsam is the premier venue for Contemporary Visual and Applied Arts in North East Wales.
We currently occupy off-site locations, with our main site being on Chester Street, right in the centre of town.
Wrexham's major new development of The People's Market will put the visual arts at the heart of a lively and innovative arts and cultural space that will incorporate new galleries, studio provision for artists and creative industries, learning studios, a curated cinema programme, cafe/bar, flexible performance space, retail offer and market provision. The project has been designed by Featherstone Young Architects and work will commence on site early in 2017. The project is supported by Welsh Government funding through the Vibrant and Viable Places programme, The Arts Council of Wales, and Wrexham County Borough Council.
Until the new space opens in 2018, Siop//Shop, at 11 Chester Street, with its distinctive Jonny Hannah frontage telling the story of Wrexham, provides a focus for our off-site project programme which sees the town as our gallery space. We are delighted to be presenting a new work by Simon and Tom Bloor, made in collaboration with local people, celebrating Wrexham as a place to play.
We are also continuing our Art Vend project which features new commissions by over 80 artists available through machines for just £1. Art Vend explores the links between the creation of art and the democratisation of buying art.
Our programme features a new season of PERICLO project space commissions, Maker in Focus exhibitions (in collaboration with Mission Gallery, Swansea) showcasing the best in contemporary applied arts, regular exhibitions by leading printmakers following on from Angie Lewin, Neil Bousfield, Pam Newall, socially engaged programme in our Shepherds Hut by Antonia Dewhurst who built the hut with young people on Caia Park, a continuation of our popular children's arts activities, and other workshops for groups and adults.
OW continues to offer Collectorplan, an interest-free* credit service to help you buy contemporary art and craft in Wales.