Gladfest
Gladstone's Library
Church Lane
Hawarden
Flintshire
CH5 3DF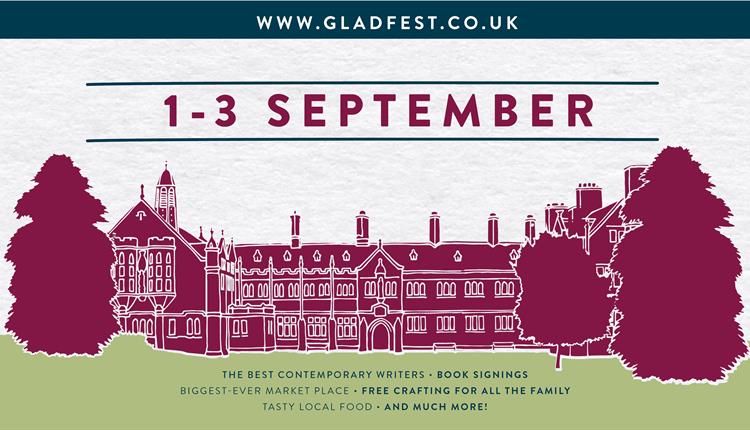 About
Gladfest is the UK's friendliest literary festival in its only residential library!

The festival is five years old this year and we have an extra special lineup to celebrate...

Big names include TV historian Diarmaid MacCulloch (All Things Made New: The Reformation), Sarah Perry (The Essex Serpent), broadcaster Sally Magnusson (Where Memories Go: Why Dementia Changes Everything), journalist and biographer Kathryn Hughes (Victorians Undone), Gladfest friend Francesca Haig (The Forever Ship) and BBC Official Historian Jean Seaton (Pinkoes and Traitors).

We also welcome a number of the country's brightest breakthrough talents including Dan Richards (Climbing Days), Natasha Pulley (The Bedlam Stacks), Joanna Cannon (The Trouble with Goats and Sheep) and Tara Guha (Untouchable Things), and there'll be an exclusive rehearsed reading of their new adaptation of Chekhov's Uncle Vanya from Theatr Clwyd.

Visit www.gladfest.co.uk for the full lineup!

Plus FREE activities for kids, a free-entry Market Place filled with local designers and contemporary crafts, a bookstall stocking reads from festival speakers (with the opportunity to get them signed), and the Food for Thought café open throughout the festival for delicious homemade hot and cold food.

Day Tickets | £30 (includes any 5 talks on one day)
Workshop Tickets | £40 (includes any 4 workshops across the weekend)
Weekend Tickets | £55 (includes any 10 talks across the weekend)
Individual Talks | £7 each
Individual Workshops | £12 each
Become a Gladvocate | £25
Family crafts | FREE

Priority booking for Friends is open from Wednesday, 3rd May. General release opens Wednesday, 17th May.

Find out more at gladfest.co.uk!